'Breaking Bad' Opera In The Works; Oliver Stone Complains About Show's Violent Finale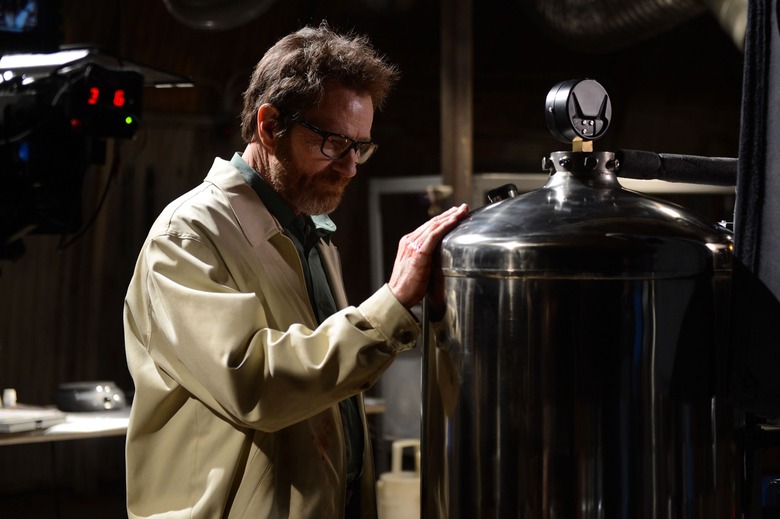 One week after Walter White concluded his journey on Breaking Bad, people are still turning over that finale in their minds, and coming to very different conclusions.
On one side, we have the artistic director of the One World Symphony in New York City, who so liked the series that he plans to adapt it into an opera. On the other is filmmaker Oliver Stone, who complained that "Felina" was too violent. Hit the jump for more on these very different Breaking Bad reactions.
While details are still up in the air ("How will I compose this mini-opera?" he muses), they should be set in the near future. Breaking Bad – Ozymandias is set to run January 26-27, 2014. Keep an eye on the company's website (via TheWrap) for details.
Meanwhile, Stone was far less impressed. Although he admits that he doesn't follow the show, he happened to catch the finale. "I saw the most ridiculous 15 minutes of a movie – it would be laughed off the screen," he said of the experience. (Spoilers for "Felina" follow from here on out.)
One scene that particularly irked him was the one in which Walter wipes out the Nazis.
Nobody could park his car right then and there and could have a machine gun that could go off perfectly and kill all of the bad guys! It would be a joke. It's only in the movies that you find this kind of fantasy violence. And that's infected the American culture; you young people believe all of this shit! Batman and Superman, you've lost your minds, and you don 't even know it! At least respect violence. I'm not saying don't show violence, but show it with authenticity.
That said, "I wouldn't criticize everything," Stone said. "I'm just saying it's the level of violence." That's kind of an ironic statement coming from the guy who wrote Scarface, one of Breaking Bad's most frequently cited inspirations. But it's not like he's alone in disliking the episode. Britney Spears, of all people, recently offered her thoughts on "Felina": "I thought it was really sad. I didn't like it at all. I don't think [Walt] should have died."