'The Monuments Men' Trailer: "How Can I Help You Steal Our Stolen Art?"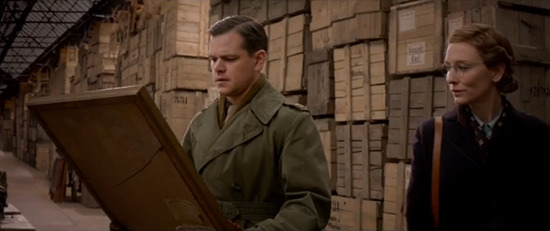 There's a hell of a lot of great stuff in this second trailer for The Monuments Men. Start with George Clooney and Matt Damon building an "Ocean's Eleven in WWII" squad to preserve and recover art stolen by the Nazis, and add guys like Bill Murray, John Goodman and Bob Balaban as members of the squad. But I think Cate Blanchett gets the win here, with her super droll question: "how can I help you steal our stolen art?"
Check out the full trailer for the December release below.
Yahoo has the trailer. (I know, their embeds have been worse than ever lately. Fortunately, Sony put one on YouTube, too. )
I liked but didn't love the first trailer for this film, which Clooney directed from a script from a script he and Grant Heslov adapted from the book by Robert M. Edsel and Bret Witter. But this full theatrical trailer gets the tone just right — it dials down the comedy just a bit, and while it also scales up the award-season appeal, it does so with such command of the material that I'm ready to fall for it. There's a lot of good stuff coming this fall and winter, but The Monuments Men is high on the list of stuff we want to see.
The Monuments Men opens on December 18.
An unlikely World War II platoon is tasked by FDR with going into Germany to rescue artistic masterpieces from Nazi thieves and returning them to their rightful owners. It would be an impossible mission: with the art trapped behind enemy lines, and with the German army under orders to destroy everything as the Reich fell, how could these guys – seven museum directors, curators, and art historians, all more familiar with Michelangelo than the M-1 – possibly hope to succeed? But as the Monuments Men, as they were called, found themselves in a race against time to avoid the destruction of 1000 years of culture, they would risk their lives to protect and defend mankind's greatest achievements.