Sequel Bits: 'Fast & Furious 7', 'Mad Max: Fury Road', 'The Heat 2', 'Futurama', 'Harry Potter'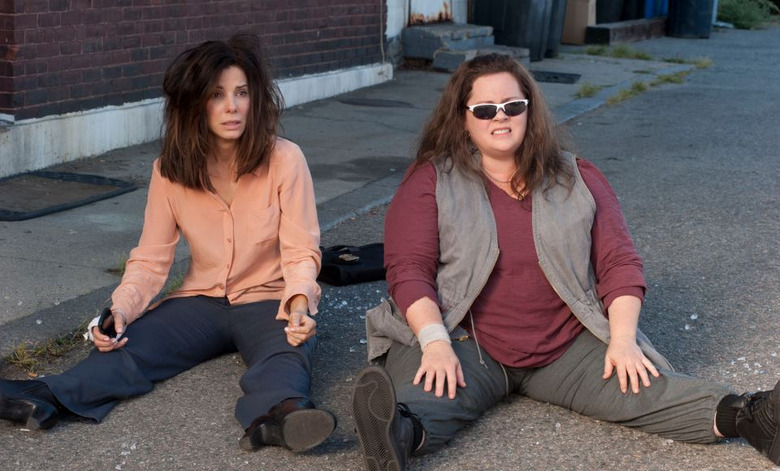 It's way, way too early to guess what the Harry Potter spinoff Fantastic Beasts and Where to Find Them might look like, but it's never too soon to fantasize with producer David Heyman. Also after the jump:
Sandra Bullock isn't interested in The Heat 2
New Fast & Furious 7 pic shows lots of cars, extras
Night at the Museum 3 will shoot in London and Vancouver
Futurama returns again, this time in The Simpsons
Is Mad Max: Fury Road actually awesome?
See more pics of Michael Bay hard at work on T4
While it's theoretically possible for The Heat 2 to go ahead without Bullock, director Paul Feig admits it'd be tough. "It would be very hard," he said. "They're so great together. Their chemistry is so awesome. I would be very sad if I didn't have both of them back."
On the bright side, though, Bullock isn't adverse to another team-up with Melissa McCarthy. "What Melissa and I had was beautiful. We might do another film together. I think we should do a silent film together," she said. Yes, please. [TheWrap]
The latest pic from the Fast & Furious 7 suggests that James Wan is causing traffic jams all over town, but he assures everyone that these cars and people are actually part of his film.
I mean, you didn't think he was going to make a Fast & Furious movie without a massive lineup of gleaming cars, did you? Fast & Furious 7 opens July 11, 2014. [Twitter]
With a 2014 release date already locked in, Night at the Museum 3 is preparing to shoot this winter. While we don't know whether the film will be set in London, as rumor has it, we now know that it will at least shoot there.
Night at the Museum 3 enters pre-production this fall with director Shawn Levy and Ben Stiller. Look for it to hit theaters December 25, 2014. [On Location Vacations]Futurama is being revived yet again, sort of. Executive producer Al Jean reveals that the finale of The Simpsons' current 25th season will be a crossover with the sci-fi series.
Jean reveals that they've already done a table read for the episode, with Futurama actors John DiMaggio (who voiced Bender), Billy West (Fry, Farnsworth, and Zoidberg), and Maurice LaMarche (Kif) all present. "It was really, really great to see Bender interacting with Homer," said Jean. [Sun News via Topless Robot]
Mad Max: Fury Road has had a notoriously troubled pre-production and production process, and we heard last month that the film was going in for reshoots. However, none of those hardships will matter if the final product kicks ass — and according to an early report, it does.
An insider who saw the movie described it as "end to end, a badass chase filled with incredible action." In fact, says the individual, the reshoots are actually a great sign. The studio loved George Miller's work so much, they gave him more money so he could shoot an expensive action sequence just the way he'd wanted to.
Less encouraging is the source's claim that Tom Hardy inexplicably reuses his Bane voice, "but since Max only has a handful of lines it isn't too bad – and maybe they can dub him, as an homage to the original Mad Max." [Badass Digest]
Michael Bay is still hard at work on Transformers: Age of Extinction, and he has the photographs to prove it.
Interestingly, in a (since deleted) post on the Shoot for the Edit forums, administrator Nelson says that Bay is working with "a totally new crew for this movie (aside from the DP & the AD)," including "stunt people & drivers, SFX crew, camera crew, and grips." Even the trucks that "play" Optimus Prime have been replaced. [TLAMB, Flickr]
Details on the Harry Potter spinoff Fantastic Beasts and Where to Find Them are hard to come by right now, and not just because the studio wants to keep them under wraps. "Honestly, we haven't begun, because [J.K. Rowling] has got to write the script," said producer David Heyman. "But it's fun to start thinking about it!"
However, that isn't stopping Vulture from speculating about it. The site confirmed that Phineas Black would be the headmaster of Hogwarts at the time, and suggested that he could butt heads with protagonist Newt Scamander over his research. "I love this!" Heyman responded.
The journalist also rattled off suggestions for the lead to get an idea of what Heyman had in mind. The producer praised Dev Patel, Thomas Brodie-Sangster, and Bret McKenzie as good actors, but shot down Game of Thrones' Jack Gleeson (too young) and Harry Potter's own Harry Melling ("that's a little more difficult because he's been Dudley.")
Heyman further agreed that Alfonso Cuarón, who directed the third Potter movie, would be a good choice to direct. (Heyman produced Cuarón's Gravity, which is in theaters this weekend.) We should stress that neither Cuarón nor any of the actors named above are actually being considered for the film, as far as we know. But until the official announcements come out, what's the harm in hoping? [Vulture]