David Fincher May Make Graphic Novel Adaptation 'Black Hole' After All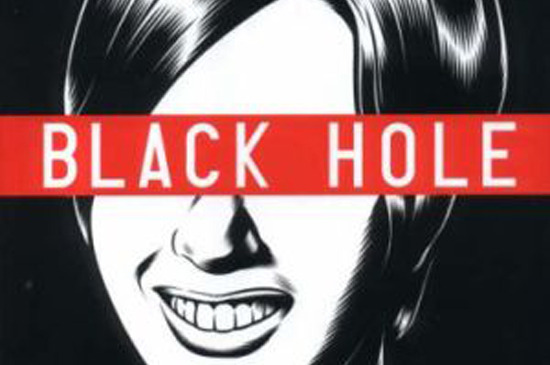 It's a good day for those who like to see films based on some of the more serious and/or challenging comics out there. We got word that a film adaptation of the first arc in Ed Brubaker's great Criminal series is still in the works, now with Kim Jee-Woon (I Saw the Devil) directing. And now the once-dead adaptation of Charles Burns' wild and very unsettling graphic novel Black Hole is back on, with David Fincher again set to direct.
This Black Hole has nothing to do with space, or with a Disney sci-fi film. It is sourced from a serialized graphic novel in which Charles Burns visualized a set of Seattle high school kids who are all touched by "the bug," a sexually-transmitted mutagen that has some pretty shocking effects on those that carry it. Picture a hybrid of Dazed & Confused and Less Than Zero filtered through early Cronenberg and you'll kinda get the idea.
In a long report on Brad Pitt's company Plan B, THR reports on the company's upcoming slate. Pitt explains,
We follow the storytellers, and our little garage band of a production company's mandate was [always] to help complex films get over the hill if they need a little push. We are in a fortunate position to do that.
Some of those complex films are  Andrew Domink's Blonde, based on the Joyce Carol Oates novel about Marilyn Monroe; "history lit via a talking dog" story The Last Family of England, with Taika Waititi (Eagle vs. Shark) directing; and The Operators, based on Michael Hastings' book that is called a "behind-the-scenes portrait of our military commanders, their high-stake maneuvers, and the politcal firestorm that shook the United States."
And then there's Black Hole, a "complex film" that needs "a little push" if ever there was one. This is a story with weird sex between teens, and weird physical mutations in those teens, and then weirder sex thanks to those mutations. Oh, and there's an ugly, creeping sense of dread and alienation — the whole thing is a great representation of the sense of being an outsider, even with respect to other outsiders. If it works on screen it could be tremendous, but the adaptation won't be easy.
Black Hole has been in development for a long time, with Alexandre Aja once set to direct from a script by Roger Avary and Neil Gaiman. That script reportedly went out the window when Fincher came on board years ago, and we don't know who'll write at this point.