Joss Whedon's 'Much Ado About Nothing:' Exclusive Images, Quotes And Pages From New Book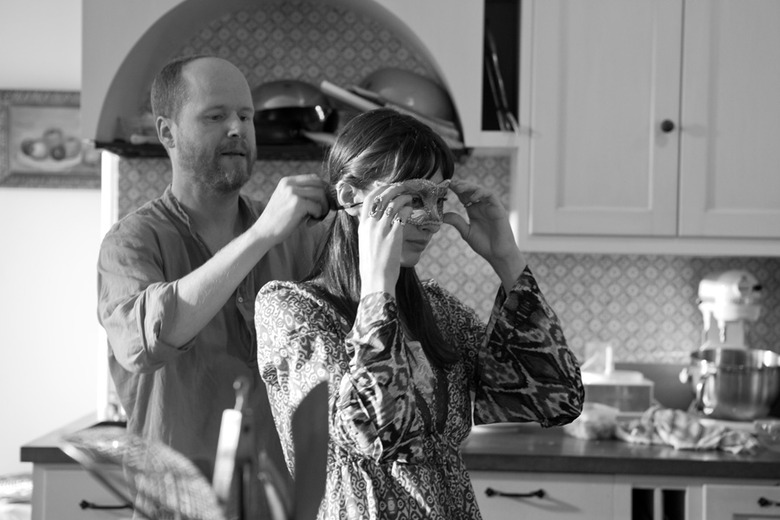 We may receive a commission on purchases made from links.
By now the story of Joss Whedon's Much Ado About Nothing is well-known. On a break from post-production for The Avengers, which would go on to gross $1.5 billion worldwide, the writer/director grabbed a bunch of friends and over 12 days shot a modernized version of the classic Shakespeare play at his own house. The resulting film, released in June, didn't make as much as The Avengers – in fact, it made just .3% as much – but the passion in it is likely on a similar level.
Next week, Titan Books is releasing a book for Much Ado About Nothing that includes Whedon's full screenplay, an exclusive interview, and never before seen images from the production of the film, such as the one above.
After the jump, see four more exclusive images as well as some special excerpts from the script and the interview.
First up, here are five exclusive behind the scenes images from the book, taken by Elsa Guillet-Chapuis.
Here's a quick excerpt from the extended interview with Abbie Bernstein:
What was your first experience of Shakespeare?
I don't remember my first experience with Shakespeare. The first really great times I had were at [Shakespeare] readings, when we'd read a play. I'd say my favorite memory, when we'd read a play with my mother and stepfather, and honestly, my favorite memory of young adolescence, was getting to play Hal to my stepfather's Falstaff in Henry IV: Part I and thereby getting to call him fat for three pages, which was something I liked to do anyway. That was just a joy.
What was your first reaction to Shakespearean language?
I made my way through it. I remember reading the Henrys probably too early and just kind of trudging my way through and looking up everything [laughs], reading an extended footnote, because all the words were so new to me. And gradually becoming more conversant and gradually seeing a lot there that I enjoyed and a lot there that I wouldn't until I saw it performed. It was definitely a bit of an effort at first. Then when I got to England and really got to see, not just great performances, but sort of offhand great performances, like, 'Oh, we just do this. We just toss one of these off.' And working with amazing teachers. That's when it really unfolded.
Finally, here's a quick excerpt from the screenplay:
EXT. LEONATO'S ESTATE, FRONT YARD – DAY
The three cars pull up. VERGES and two other watchmen position themselves by the last car.
DON PEDRO emerges from the first car, CLAUDIO and BENEDICK (now bearded) from the second. From the last, DON JOHN, his girlfriend CONRADE, and his protégé BORACHIO all emerge, their hands bound. Don Pedro sees this and frowns, indicates to the watchman to free them, which he does as Leonato and a few of his retinue emerge from the gate. Among them is a PHOTOGRAPHER, who is constantly about the estate, snapping candids.
DON PEDRO
Good Signior Leonato, you are come to meet your trouble: the fashion of the world is to avoid cost, and you encounter it.
LEONATO (hugs him)
Never came trouble to my house in the likeness of your grace...
They pose for the official photo, real warmth replaced with stately smiles, as the others approach, Benedick and Claudio in front.
LEONATO (CONT'D)
...for trouble being gone, comfort should remain, but when you depart from me, sorrow abides and happiness takes his leave.
DON PEDRO
You embrace your charge too willingly. I think this is your daughter.
Hero is emerging from the gate, trying not to appear as though she's seeking out Claudio.
ANGLE: CLAUDIO is stunned by her.
ANGLE: BORACHIO, darkly, stares at her also.
Much Ado About Nothing, the official book, is out October 8. Here's a link to it Amazon.