'Rio 2' Trailer: Meet The Parents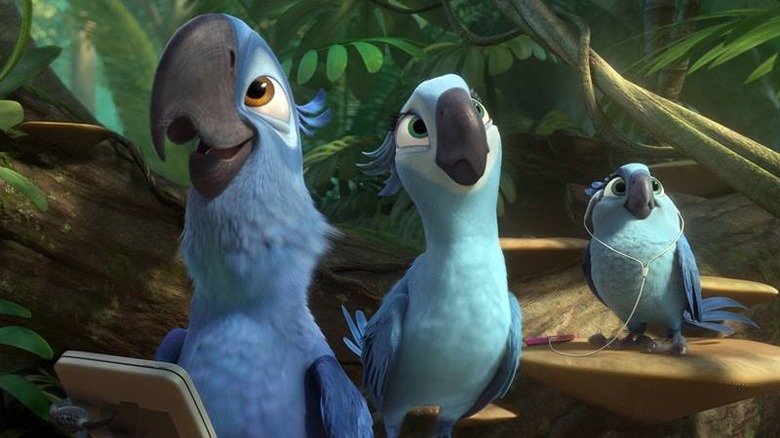 The first Rio saw Blu, the Jesse Eisenberg-iest tropical parrot of all time, thrown completely out of his element when he was moved from Moose Lake, Minnesota to the colorful streets of Rio de Janeiro. He eventually managed to acclimate to his new surroundings (um, spoiler alert, I guess), but the second will see him feeling like a fish out of water once again as he heads into the jungle.
At least he's starting out with more friends this time around. Anne Hathaway returns to voice Blu's love Jewel, George Lopez, Jamie Foxx, and will.i.am their avian buddies, and Tracy Morgan the friendly canine Luiz. Unfortunately for the gang, Jemaine Clement is also set to reprise his role as the villainous Nigel. Watch the trailer after the jump.
The first Rio was a Lucky Charm marshmallow of a movie — mostly devoid of substance, but sweet, colorful, and very easy to enjoy. This second one looks to be in the same vein. Apparently, the plot is Meet the Parents with Eisenberg as the nervous, eager-to-please Ben Stiller character. It's not the most original idea in the book, but Eisenberg shouldn't have any trouble killing it.
Andy Garcia, Kristin Chenoweth, Bruno Mars, Kristin Chenoweth, Amandla Stenberg, Rachel Crow, Pierce Gagnon, Natalie Morales, and Janelle Monáe voice new characters in the film. Returning actors Leslie Mann and Rodrigo Santoro round out the cast as the main human characters, Blu's owner Linda and Brazilian ornithologist Tulio. Carlos Saldanha directs once again.Rio 2 opens April 11, 2014.
The entire cast of the animated smash RIO returns in RIO 2, and they are joined by a new flock of top actors and musical talents. Rich with grandeur, character, color and music, RIO 2 finds Jewel (Anne Hathaway), Blu (Jesse Eisenberg) and their three kids leaving their domesticated life in that magical city for a journey to the Amazon. They encounter a menagerie of characters who are born to be wild, voiced by Oscar nominee Andy Garcia, Oscar/Emmy/Tony-winner Rita Moreno, Grammy winner Bruno Mars, and Tony winner Kristin Chenoweth.