Hugh Jackman Joins Neill Blomkamp's 'Chappie'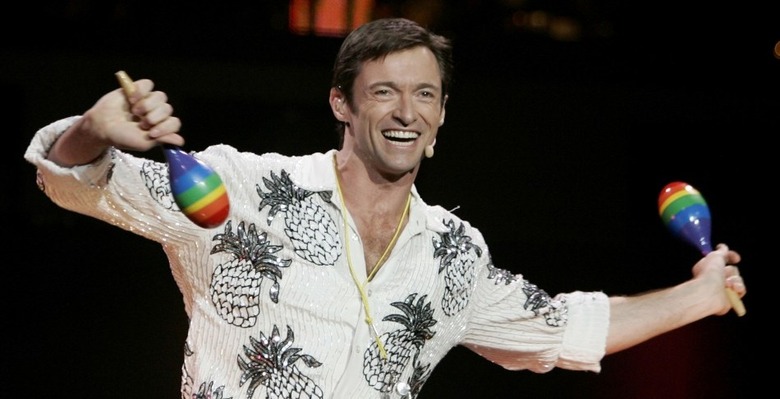 Neill Blomkamp is adding a bit of star power to Chappie. Hugh Jackman confirmed in a recent interview that he is set for a supporting role in the film, which centers around a robot police officer (voiced by Sharlto Copley) who's kidnapped by hoodlums (Die Antwoord's Ninja and Yo-Landi Vi$$er).
Hit the jump for more details about the casting, including some hints about whom Jackman could play.
I am doing a role in Neill's new film, called Chappie, which we shoot in Johannesburg. I'm there for a couple of weeks at the beginning of next year.
Written by Blomkamp and Terri Tatchell and based on one of Blomkamp's own short films, Chappie follows an android cop who works in the South African slums. One day, he's captured by two gangsters (played the Die Antwoord duo) who intend to use him for their own criminal dealings. Blomkamp has previously described Chappie as "a comedy, a heartfelt story, in a science fiction setting."
Although Jackman did not go into specifics about his character, Bleeding Cool reports that he'll play a "resourceful" CEO who has some beef with the gangsters.
Dev Patel was reported a few months back as being in talks for the human lead, a young man who lives in the neighborhood where Chappie works. However, it's unclear whether he's since sealed the deal or moved on.
Jackman currently stars in Denis Villeneuve's thriller Prisoners, and was seen this summer in The Wolverine. He'll reprise his signature superhero role again next year in X-Men: Days of Future Past. His upcoming non-mutant films include the P.T. Barnum biopic The Greatest Showman on Earth.
Sony has Chappie scheduled to open March 27, 2014. Here's the official synopsis:
Chappie tells the story of a robot imbued with artificial intelligence who is stolen by two local gangsters who want to use him for their own nefarious purposes. The film will star Sharlto Copley as the voice of Chappie, with Ninja and Yolandi Visser, voices of the South African Zef counter-culture movement and members of rap-rave duo Die Antwoord, as the two gangsters.