'Dumb And Dumber To' Adds Rob Riggle - Twice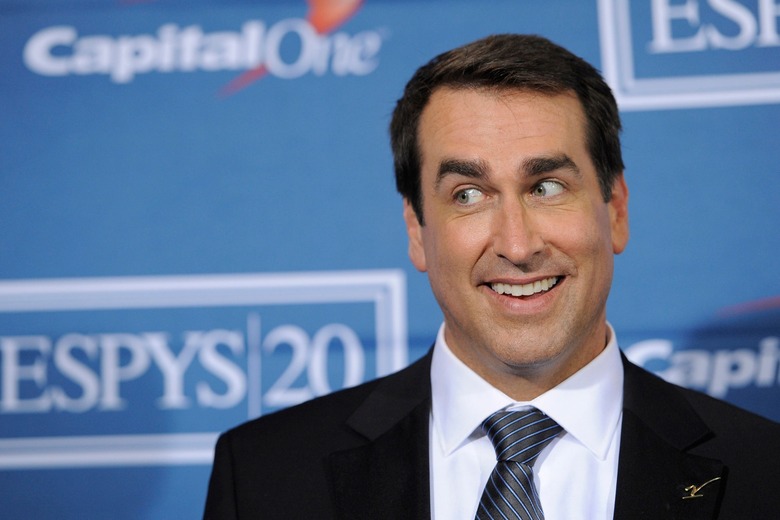 We're all Rob Riggle fans over here, but the Farrelly Brothers really, really love him — so much so, they've cast him twice. The former Daily Show correspondent has just landed a key role playing twin brothers in Dumb and Dumber To, which is shooting now in Atlanta. Hit the jump to learn more about his character.
The film has Jim Carrey and Jeff Daniels stepping back into the roles of idiot BFFs Lloyd Christmas and Harry Dunne. In this installment, the pair hit the road to track down the latter's long-lost daughter for a kidney transplant.
Rachel Melvin (Days of Our Lives) plays the female lead, while Steve Tom plays her father. Laurie Holden was also recently added to the cast as Melvin's character's evil stepmother, who wants to kill the family so she can run off with a new guy. Kathleen Turner booked an unknown role last month.
In addition to all the new faces, Dumb and Dumber To also features the return of Brady Bluhm, who played blind Billy in 4C, and Cam Neely, who played rageaholic trucker Sea Bass.
Since leaving The Daily Show in 2008, Riggle has popped up in several big comedies including The Hangover, The Other Guys, and 21 Jump Street. He's also become a familiar face on the sitcom circuit, guest-starring on shows like Modern Family, New Girl, and Happy Endings.
Dumb and Dumber To will likely open in 2014, twenty years after the original hit theaters. The Farrellys wrote the script with Bennett Yellin and Mike Cerrone. Sean Anders and John Morris were behind an earlier draft.