'Little Miss Sunshine' Directors To Make Mister Rogers Movie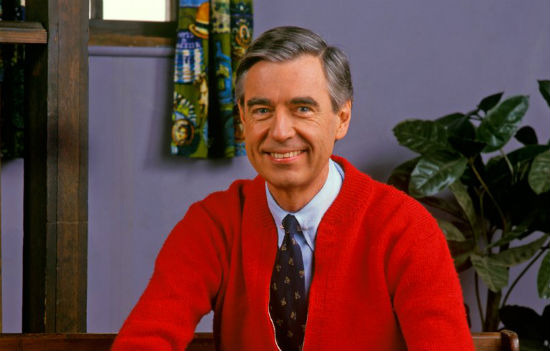 We may receive a commission on purchases made from links.
Kids of all ages felt like Mister Rogers was their neighbor and best friend. Author Tim Madigan actually got to live it. Madigan was assigned a newspaper profile on the TV icon in 1995 and became incredibly close friends with him up through Rogers' death in 2003. Madigan then chronicled their friendship as a way to pay tribute to his friend and let the world know Fred Rodgers was, possibly, even nicer in person than he was on TV.
That tale of camaraderie juxtaposed with the life of a TV icon is the story of Madigan's book I'm Proud of You which is now being turned into a movie. It'll be helmed by Jonathan Dayton and Valerie Faris who directed the Oscar-winning Little Miss Sunshine as well as last year's underrated Ruby Sparks.
The Wrap broke the news of the film, which will be written by Micah Fitzerman-Blue and Noah Harpster (The Motel Life).
Here's the Publisher's Weekly description of the book via Amazon:
Fred Rogers, the "gentle icon" of public television's Mister Rogers' Neighborhood, taught generations of children and their parents how to express feelings and relate to others in a positive way. Rogers was also an ordained Presbyterian minister who regularly studied the important spiritual thinkers and shared his faith with an eclectic range of adult friends. Madigan, a journalist with the Fort Worth Star-Telegram, became one of those friends after writing a piece on Rogers and Captain Kangaroo (Bob Keeshan) in 1995. Soon Madigan and Rogers were corresponding, and Madigan reprints here many of their letters and e-mails. They built a warm, supportive friendship, one that nourished Madigan through his self-doubt "Furies" and the difficult death of his dear brother. As Rogers grieved for Madigan's losses and several of his own, the two taught each other about the beauty of giving and receiving "unconditional regard" from a beloved friend. So close did they become that readers may share Madigan's shock at discovering that Rogers was gravely ill—too weak for a last visit before his death in 2003.
The idea of learning about this incredibly famous man, through the eyes of a flawed man, and how their friendship changed one another sounds like a unique spin on the biopic. Casting is key of course. Who would possibly play Rogers?