'Foxcatcher' Trailer: Steve Carell Takes A Dark Turn For Bennett Miller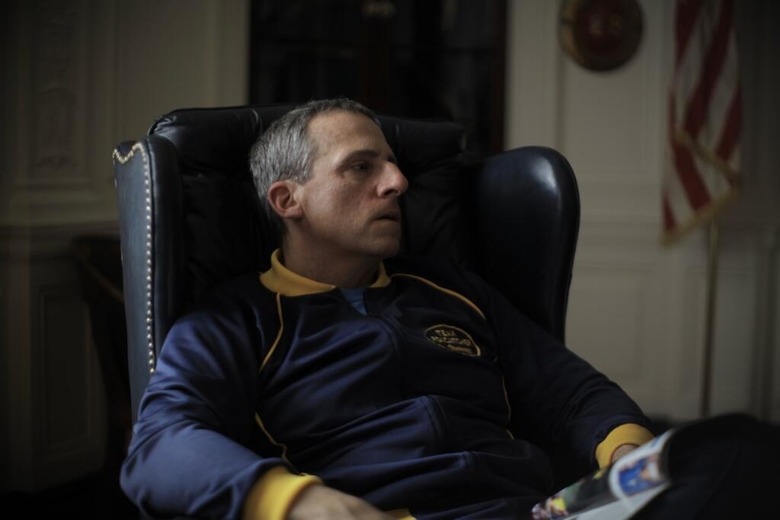 If Michael Scott had one defining characteristic on The Office, it was his bottomless need to be loved. Not content with just being the boss, he insisted that his employees treat him as a close confident, a best friend, or even a family member.
That same neediness appears in Carell's next film, Foxcatcher, only it's pushed to disturbing new heights. Directed by Bennett Miller, the drama depicts the shocking true tale of chemical heir John du Pont (Carell), who takes an Olympic wrestler (Channing Tatum) under his wing. "A coach is a father. A coach is a mentor. A coach has great power on the athlete's life," he intones ominously. Mark Ruffalo also stars, as Tatum's brother. Watch the trailer after the jump.
Tatum and Ruffalo look to be in fine form here, but it's Carell that looks like the real revelation. Though he's forayed into more serious material before, this is by far the darkest role we've ever seen him in — and it's chillingly effective. He's practically unrecognizable here, thanks in a large part to his new nose. And in a weird way, the fact that du Pont is being played by one of America's most likable stars makes him that much creepier.
Foxcatcher opens December 20.
FOXCATCHER is a psychological drama directed by Academy Award nominee Bennett Miller (MONEYBALL) and starring Golden Globe winner Steve Carell, Channing Tatum, Academy Award nominee Mark Ruffalo, Academy Award winner Vanessa Redgrave and Sienna Miller. The film was written by E. Max Frye and Academy Award nominee Dan Futterman. FOXCATCHER tells the story of Olympic Gold Medal-winning wrestler Mark Schultz (Tatum), who sees a way out from the shadow of his more celebrated wrestling brother Dave (Ruffalo) and a life of poverty when he is summoned by eccentric multi-millionaire John du Pont (Carell) to move onto his estate and train for the 1988 Seoul Olympics. Desperate to gain the respect of his disapproving mother, du Pont begins "coaching" a world-class athletic team and, in the process, lures Mark into dangerous habits, breaks his confidence and drives him into a self-destructive spiral. Based on actual events, FOXCATCHER is a gripping and profoundly American story of fragile men who pinned their hopes for love and redemption on a desperate obsession for greatness that was to end in tragedy.