Star Wars Bits: 'Episode VII' Going IMAX? Plus '1313' Boba Fett Footage, 'Black Angel,' 'Return Of The Jedi'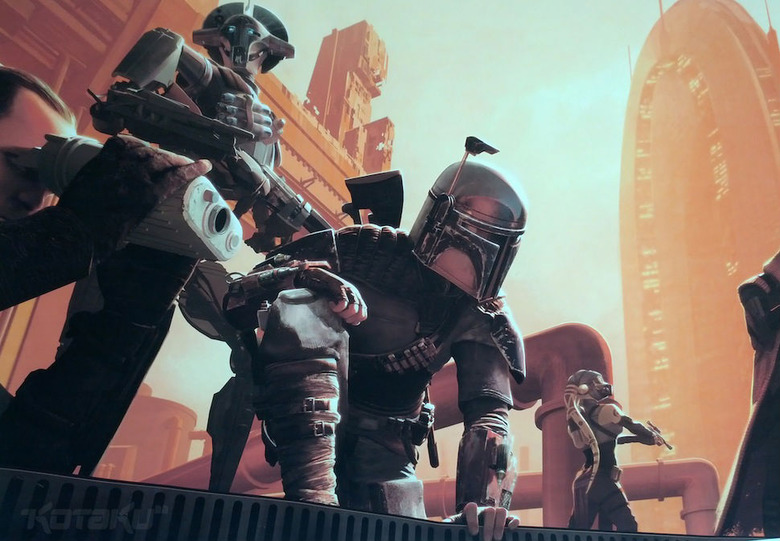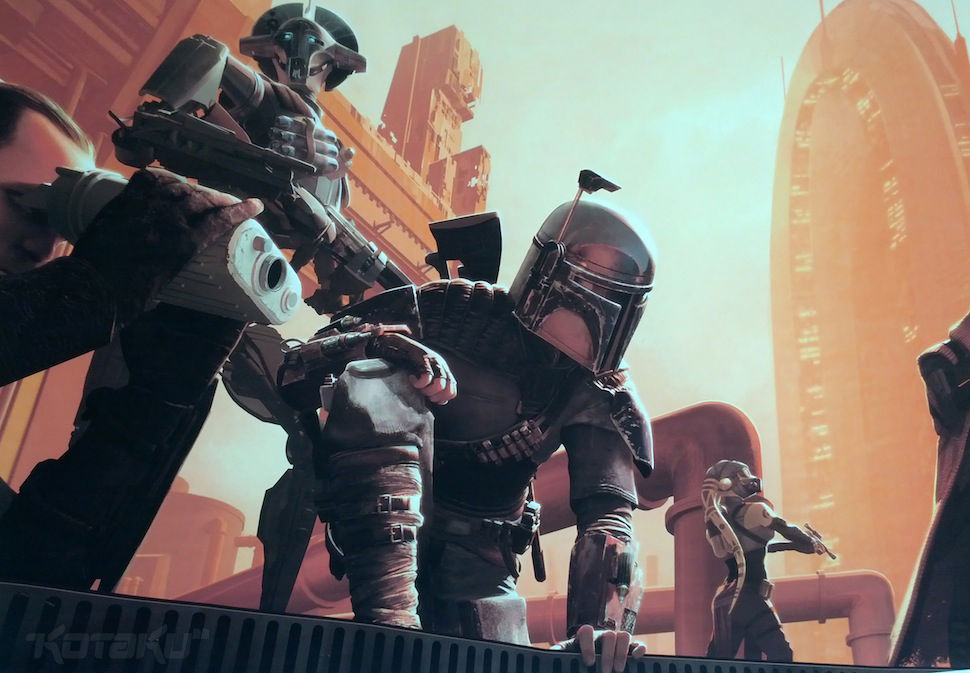 The long wait for official Star Wars Episode VII information continues, but the Star Wars news never stops. In this edition of Star Wars Bits, the CEO of IMAX makes it sound like Episode VII could have IMAX scenes as well as the following:
More images, footage and story are revealed from cancelled Boba Fett game Star Wars 1313.
Check out an animated open letter to J.J. Abrams.
Learn ten new things about Return of the Jedi from J.W. Rinzler's book.
See the long lost short film Black Angel next month in northern California.
A trailer for Star Wars: Return of the Jedi Pinball is online.
The trench run was recreated by the Oculus Rift.
Scientists might have figured out how to create a lightsaber.
Just how big, physically, could Star Wars Episode VII be? Ain't It Cool News was tipped off about an investor conference with IMAX CEO Richard Gelfond, who said the following:
We are talking to J.J. Abrams' [team] now about the next Star Wars being used with partly IMAX cameras.
This makes total sense. Abrams' last film, Star Trek Into Darkness, was partially shot with IMAX cameras and an IMAX executives are on record saying they're still committed to making film cameras. Do you think they'll actually shoot the film in IMAX or just upconvert?
Star Wars 1313 was a major video game being developed by Lucasarts that was reportedly canceled when Disney purchased the company. The third-person action film starring Boba Fett was likely the biggest loss in the entire ordeal. IGN however has now posted some new images from the game, as well as a reaction video to seeing a 15 minute demo that was being prepared for this year's E3. Here's their reaction video, there are more images and story points at this link.
J.W. Rinzler's latest book, The Making of Star Wars: Return of the Jedi, is coming out soon. IO9 went through the whole thing to find 10 things you didn't know about Return of the Jedi.I09 also tipped us to this great animated video, which is an open letter to J.J. Abrams on how to not screw up Star Wars. Great points here told with real style.
In the past, we've written about a short film called Black Angel, which played in front of select screenings of The Empire Strikes Back. Directed by Roger Christian, the 22-minute short was approved by George Lucas and screened in Europe, before getting lost in archives for decades. Mashable is now reporting the film is having its first public screening in over thirty years on October 13 at the Mill Valley Film Festival in Marin, California.
One of my favorite iOS games is Star Wars Pinball by Zen Studios and they'll soon release an update themed to Return of the Jedi. Here's the trailer thanks to App Advice.
A fan recreated the Star Wars trench run with the new virtual reality 3D headset, the Oculus Rift. Check it out below via The Verge.
Finally, Gizmodo wrote about a new discovery by scientists at Harvard and MIT. They figured out how to get photons clump together to form a whole new kind of matter, matter that acts very much like a lightsaber. Obviously, it's more complicated than that so head over to that link.