New 'Transformers: Age Of Extinction' Image Highlights Explosive Robot Action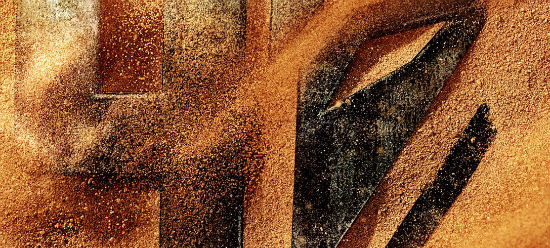 After gazing thoughtfully into the distance in the first official image from Transformers: Age of Extinction, director Michael Bay is getting down to work in the latest pic from the set. This being Bay, though, a day at the office still looks pretty damn exciting. Check out the image after the jump.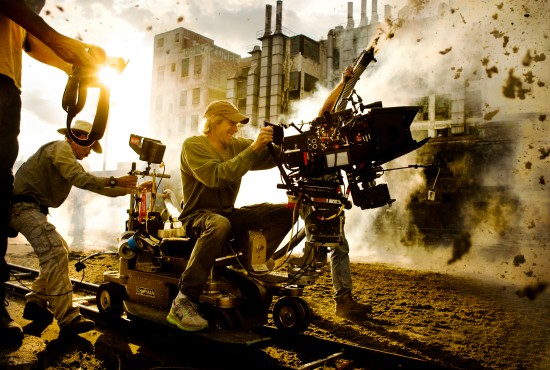 The debris flying around (and the fact that this is a Michael Bay movie set) point to a big explosion haven just taken place. It's unclear what's happening in this scene, but it probably has something to do with giant robots from outer space. Meanwhile, the warm tones and artfully arranged lens flare glam up what's probably a typical workday for Bay.
None of the film's leads, human or otherwise, are seen here, but the cast includes Mark Wahlberg, Jack Reynor, Nicola Peltz, Stanley Tucci, Sophia Myles, Li Bingbing, Han Geng, Titus Welliver, T.J. Miller, and Kelsey Grammer. Dinobots are strongly rumored to play a key role in the plot, but so far there's been no official confirmation that they'll appear at all.
For that matter, most of the plot is being kept under tight wraps for now. What we know is that the sequel picks up a few years after the Attack on Chicago from Transformers: Dark of the Moon, and that the leads are a young woman (Peltz), her dad (Wahlberg), and her racecar driver boyfriend (Reynor). Miller will play Wahlberg's mechanic pal, and Grammer is a human villain with ties to the government.
The sci-fi adventure is filming now in Chicago. Other shooting locations include Los Angeles, Detroit, Beijing, Hong Kong, Monument Valley in Utah, and Pflugerville in Texas. Transformers: Age of Extinction opens June 27, 2014.