'Paranormal Activity 5' Adds 'Almanac' Scribes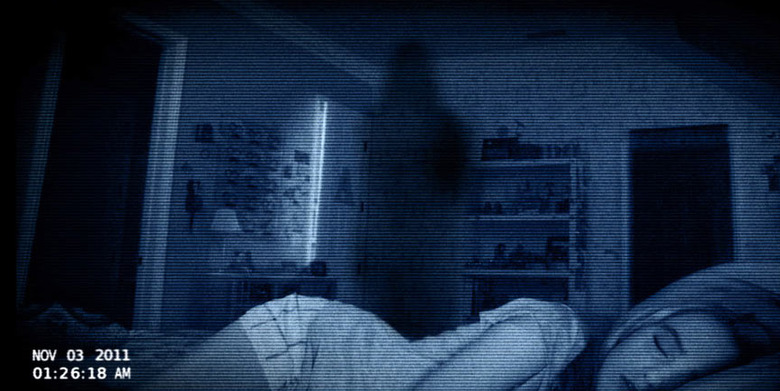 2013 marks the first year without a Paranormal Activity movie since the original hit theaters in 2009, but Paramount plans to make up for that gap by releasing two separate franchise installments next year. Now the ball is rolling on one of them, Paranormal Activity 5.
The studio has just tapped Jason Pagan and Andrew Stark to write the script. Pagan and Stark are the Black List pair behind Almanac, the Michael Bay-produced found-footage thriller landing next year. Hit the jump for the latest updates from the Paranormal franchise.
Paranormal Activity 5 will be the second entry from the franchise landing next year, with a release date of October 24, 2014. The first will be Paranormal Activity: The Marked Ones, a Latino-themed spinoff due out January 3, 2014. That one is being directed by Paranormal Activity 2-4 writer Christopher Landon.Paranormal Activity 5 has yet to find a director or announce any stars. No plot details have been revealed at this point, either. As with all of the other movies in the series so far, Jason Blum and Oren Peli will produce.
Pagan and Stark seem like a natural choice to pen Paranormal Activity 5. Though the pair are still up-and-coming, they're already well-versed in the handheld camera subgenre. Moreover, they have a strong ongoing relationship with Paramount. Last year, Bay's Platinum Dunes sold their script Almanac to Paramount, and just a couple of weeks ago Bay and Paramount teamed up again to buy their pitch Raindrop.
The former centers around a group of kids who use time travel to bet big on sports teams, a la Biff Tannen in Back to the Future Part II. Few details have been revealed about Raindrop, but we know that it, like Almanac, will be in the found-footage style. Almanac opens February 28, while Raindrop has yet to announce a release date.
The Paranormal movies have collectively grossed $718 million worldwide to date. Paranormal Activity 4 was actually the worst performer, earning $140 million, but with a production budget of just $5 million, it still turned a very tidy profit.