Vince Gilligan Books His Potential 'Breaking Bad' Follow-Up On CBS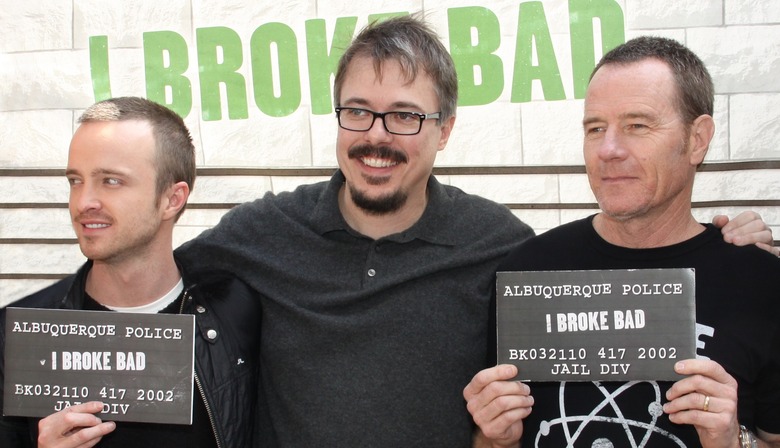 Vince Gilligan just won the Best Drama Series Emmy for Breaking Bad and the show is finishing up with higher ratings than ever before. Where do you go when you're at the top of the world? Apparently, CBS is one option.
The network has just picked up a "series production order" for a show Gilligan created called Battle Creek. House creator David Shore would run the show with Gilligan executive producing along side Breaking Bad's Mark Johnson. He hasn't ruled out playing a bigger, more day to day role either. The network is eyeing the 2014-2015 season for a possible premiere.
Variety was one of several outlets to report on the show, which will follow two police detectives in the small titular Michigan town. One is innocent and honest while the other is sarcastic and deceptive, and those two ideologies clash while the pair try to solve crimes.
Gilligan created the show in 2002, right after leaving the The X-Files. It got to the pilot stage before being dropped by the network. That, of course, ended up being the best thing imaginable for everyone because from there he went on to create Breaking Bad.
Battle Creek isn't the only show Gilligan will be working on immediately following the end of Breaking Bad. He's also executive producing Better Caul Saul, a Breaking Bad themed prequel that's set up at AMC.
It seems to me Gilligan is using his new found fame and notoriety to set up projects he's long wanted to do, but hasn't fully committed himself to anyone thing just yet. Which is great. He's the kind of guy – like a David Simon, David Chase or Matthew Weiner – that whatever they touch, should be incredibly interesting.
What do you think of the idea for Battle Creek?