First Look: Jim Carrey And Jeff Daniels Return In 'Dumb And Dumber To'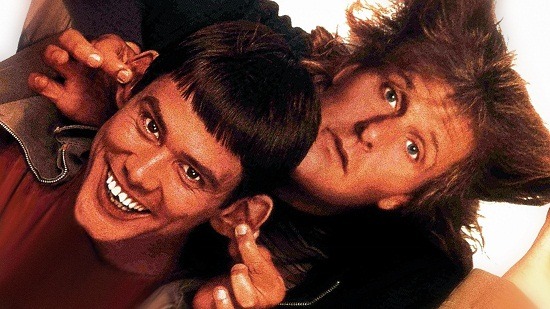 Lloyd Christmas and Harry Dunne are back and looking as stupid as ever. Production has begun in Atlanta on Dumb and Dumber To, the Farrelly Brothers sequel to their 1994 smash hit Dumb and Dumber. It'll likely be released in 2014, twenty years after the original. Now, thanks to Twitter, Jim Carrey, newly-minted Emmy winner Jeff Daniels, and the directors have all posted photos of the best buds, with the worst haircuts ever, back on the set. Check them out below.
Here are three photos tweeted by Carrey, Daniels and the official account.
On Sunday, Daniels won and Emmy for his work on The Newsroom. After the event, he teased E! Online about the film:
There are some things that's we're going to do in Dumb and Dumber To that make the toilet scene [in the original] seem lame. Pales in comparison and I can't divulge what, but just that they've topped it. They best thing about it? I get to work with a comedic genius.
Frankly, I'm surprised at how close to the original the two actors look. Carrey especially looks almost like he did in 1994. Sure they look old, but not as old as twenty years might sound like. Let's just hope the film itself can conjure up some of that twenty year old energy.
Dumb and Dumber To will likely be released in 2014, twenty years after the release of Dumb and Dumber. It also stars Laurie Holden, Kathleen Turner, Steve Tom and Rachel Melvin.