'Gravity' Featurette Explains How 3D Becomes A Primary Character In The Film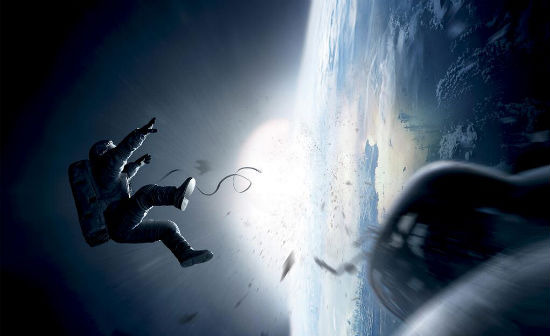 There are few theatrical experiences as intense as seeing Gravity on a giant screen in 3D. Alfonso Cuaron's latest film, opening October 4, is one of the most visually and sonically impressive films in recent memory as the two elements work in beautiful tandem to enthrall the audience. It's a must-see in 3D because the third dimension is used very specifically to enhance the tension and sense of fear. You feel as if you're right there, floating in space with two astronauts (Sandra Bullock and George Clooney) who are about to have a very bad day.
Below, watch a featurette which explains how Cuaron and company used 3D as a main character.
Thanks to AMC Theaters for the video.
We'll have more on Gravity soon, including an exclusive interview with producer David Heyman. Very cool stuff.
Academy Award winners Sandra Bullock and George Clooney star in "Gravity," a heart-pounding thriller that pulls you into the infinite and unforgiving realm of deep space. The film was directed by Oscar nominee Alfonso Cuarón ("Children of Men"). Bullock plays Dr. Ryan Stone, a brilliant medical engineer on her first shuttle mission, with veteran astronaut Matt Kowalsky (Clooney) in command of his last flight before retiring. But on a seemingly routine spacewalk, disaster strikes. The shuttle is destroyed, leaving Stone and Kowalsky completely alone—tethered to nothing but each other and spiraling out into the blackness. The deafening silence tells them they have lost any link to Earth...and any chance for rescue. As fear turns to panic, every gulp of air eats away at what little oxygen is left. But the only way home may be to go further out into the terrifying expanse of space.