Rumored 'Star Wars Episode VII' Casting Call Suggests Wookiees (Or Gungans) Return - UPDATED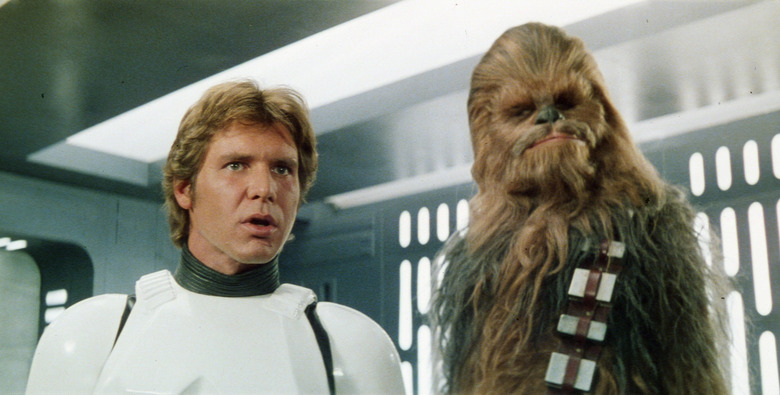 UPDATE: Peter Mayhew himself has released a statement about this story. Read it below.
Considering Star Wars Episode VII takes place a few decades after Return of the Jedi, it's pretty safe to assume many of the original characters will return. Luke Skywalker, Han Solo and Princess Leia all seem to be locked in. But is Han Solo ever really without his sidekick, the mighty Chewbacca? The original actor who played the character, Peter Mayhew, recently had some major health problems so his return seems unlikely. However, a new casting call has been found in the United Kingdom looking for an actor with a build similar to Mayhew's. Does that mean Wookiees will return? Or is it (shudder to think) the Gungans?
The below casting call, for an "UNTITLED STUDIO FEATURE" by Walt Disney Pictures/LucasFilm/Bad Robot, comes from Den of Geek. They found it on an audition series called Spotlight. Here's what it says:
Male, 7 ft to 7.3 ft tall with a slim/thin build and upright posture. Not too worked out or too 'thick set' especially in the shoulders. Broad facial features would be a bonus.
That certainly sounds like the prototypical body for a Wookiee or a Gungan. With no mention of anything other than physicality, a role in a suit or motion capture seems more than likely. Plus, knowing your Star Wars history, those are the two popular races who are tall and lanky. Meesa think Abrams wouldn't bring back da Gungans so a Wookiee is the safe bet. There's always the possibility, too, that Star Wars Episode VII introduces a new race. Since nothing is set in stone though, so all possibilities must be considered. (Another possibility? That this casting call is total and utter BS.)
Do you think the fact Mayhew is sick, plus Solo is likely returning, suggests a Wookiee? Would Abrams bring back the Gungans? Could this be a new alien race?
UPDATE: W. Ryan Ziegler, the director of the Mayhew documentary Standing In The Stars: The Peter Mayhew Story, spoke to the original Chewbacca and submitted Peter's reaction to this to Bleeding Cool. The actor simply said:
I intend to pursue the role of Chewbacca for Episode VII.
Maybe Mayhew will appear after all.