'Dom Hemingway' Trailer: Rude, Crude Jude (Law)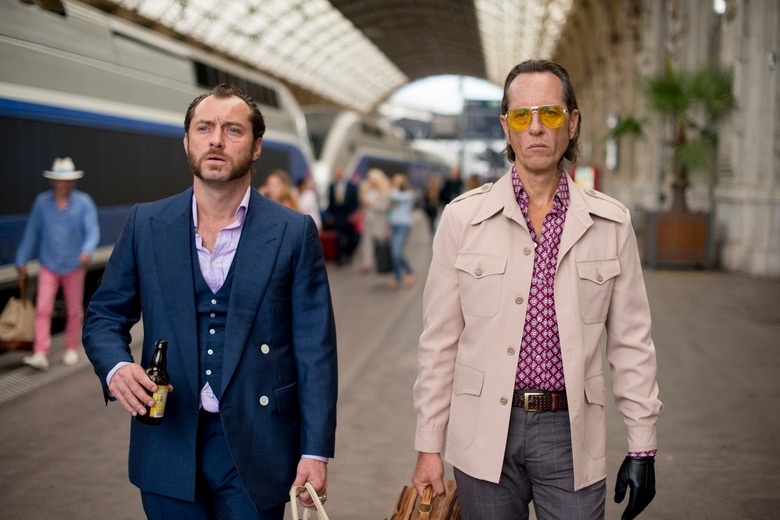 After a string of strong supporting roles, Jude Law returns to the spotlight in Dom Hemingway. And what a noisy, colorful return it may be.
The gangster pic stars Law as a safecracker who's just spent twelve years in prison for keeping his mouth shut. Once out, he reconnects with his old life by trying to collect his due from his boss (Demián Bichir) and make up with his estranged daughter (Emilia Clarke). Richard E. Grant plays Dom's best friend, who's along for the ride.
The first trailer has just hit, and you can check it out after the jump. Be warned that it's NSFW, unless your own boss doesn't mind seeing Law's bare bottom on your computer screen.
Law's return to center stage comes not a moment too soon. He seems to be at the top of his form here, oozing charisma even as it becomes obvious that Dom is a terminal screw-up.
Indeed, most of the reviews out of TIFF have focused on this memorable lead character. Variety calls Dom "one of the meatiest personalities in a genre known for larger-than-life types," while Screen Daily noted that it was "one of Law's best turns, brimming with energy, brio and a real sense of dark fun." Even THR, which was less sold on the film overall, enjoyed Law's "balls-out performance."
Dom Hemingway opens November 15 in the U.K. and (sadly) April 4 in the U.S.
Dom Hemingway (Jude Law) is a larger-than-life safecracker with a loose fuse, funny, profane, and dangerous. Back on the streets of London after twelve years in prison, it's time to collect what he's owed for keeping his mouth shut.
Travelling with his devoted best friend Dickie (Richard E. Grant), Dom visits his crime boss Mr Fontaine (Demián Bichir) in the south of France to claim his reward. But Dom's drink and drug-fuelled ego decides that what he's lost can't be replaced. One car accident and a femme fatale later, Dom realises that his priority must be to reconnect with his long-lost daughter Evelyn (Emilia Clarke). But Dom does what Dom does best. He screws things up for everyone...