'Minions' Spinoff Pushed From 2014 To 2015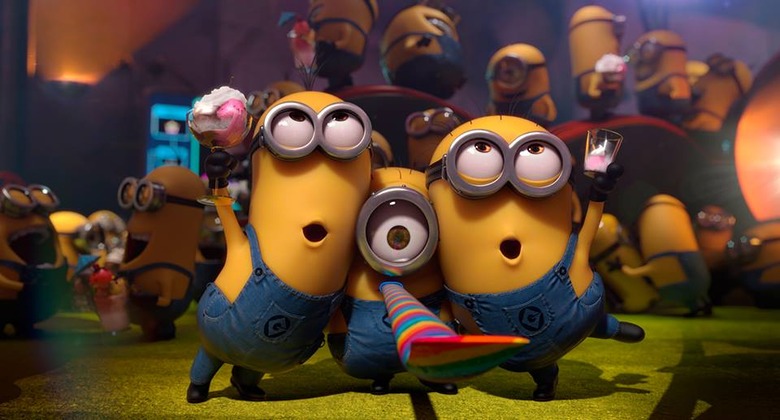 This year has been a tough one for animated films. The Croods, Epic, Monsters University, Despicable Me 2, Turbo, and Planes all opened in the space of six months, and Cloudy With a Chance of Meatballs 2, Free Birds, and Frozen are due out in the next several weeks. But so far at least, 2014 is shaping up to be a bit less crowded.
Earlier this week, Pixar announced that they were moving The Good Dinosaur from 2014 to 2015, leaving the company without a feature next year. Now Universal Studios is following suit, pushing their Minions spinoff from holiday 2014 to summer 2015. Get the details after the jump.
Minions has July 10 all to itself at the moment, but is surrounded on all sides by tough competition. Independence Day 2 and the new Terminator open the week before, and Ant-Man, The Smurfs 3, and the Man of Steel sequel bow later in the month. The decision means Universal won't have an animated movie out next year.
However, it gives Minions the advantage of opening around the same time that Despicable Me 2 did this year. That timing worked out great for the family-friendly sequel, which grossed $840 million worldwide to become the second-biggest film of the year — and the studio's most profitable picture ever.
Kyle Balda and Pierre Coffin are directing Minions from a script by Brian Lynch. The plot picks up with the puffy yellow creatures in the 1960s, long before they ever met Gru.
Left without a master to serve, they head to a villain convention to find a new boss. There, they gain the attention of Scarlet Overkill (voiced by Sandra Bullock), a stylish woman who wants to be the world's first female supervillain. Jon Hamm will voice Overkill's inventor husband.