Exclusive: 'Raiders Of The Lost Ark' Poster By Dave Perillo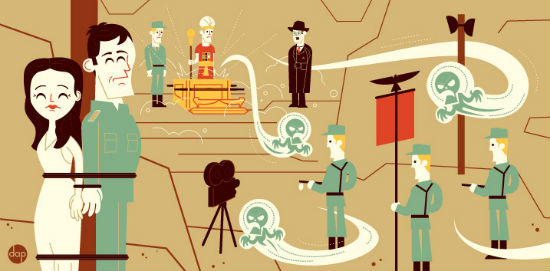 What do you do after you make awesome posters for Star Wars, The Empire Strikes Back and Return of the Jedi? Move onto that other incredible Lucasfilm franchise: Indiana Jones. We're proud to debut artist Dave Perillo's new poster for Steven Spielberg's Raiders of the Lost Ark from Acme Archives. This fantastic representation of the best adventure film of all time be on sale Thursday September 26. Check it out below.
Click below for a bigger version.

This 12 x 36 inch print is in an edition of 250 and will go on sale Thursday September 26 around 10am PST via @AcmeArchives. Follow them for the official URL.
If you're like me you're thinking, "That's awesome, but why does it have to say 'Indiana Jones and the Raiders of the Lost Ark'?" Well, this is officially licensed and, like many Lucasfilm properties, it now has a crappy, revised "official" title. Oh well. What do you think?