'Grace Of Monaco' Teaser: Nicole Kidman Is A Pretty Pretty Princess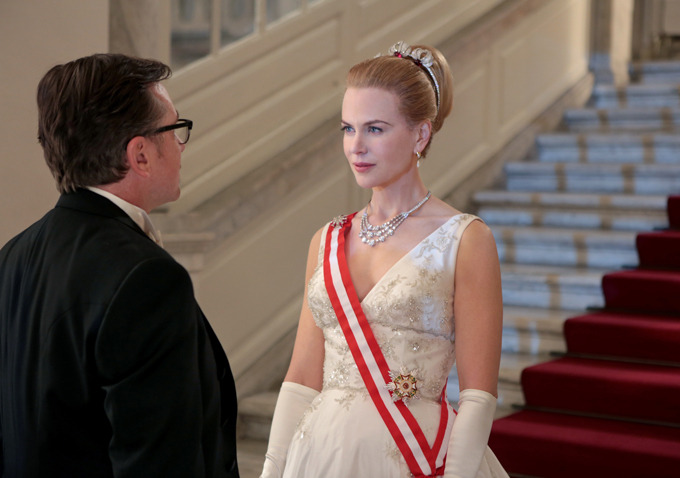 Oliver Hirschbiegel's Diana has already been thoroughly panned by critics across the pond, but maybe the second of this fall's two princess biopics will meet a better fate.
The first teaser has been revealed for Grace of Monaco, starring Nicole Kidman as movie star-turned-royal Grace Kelly. Olivier Dahan (La Vie en Rose) directs, and Tim Roth and Frank Langella also star. Check out the footage after the jump.
When we call this a teaser, we do mean teaser. Kidman doesn't utter a single line of dialogue in the entire 72-second promo, though she does get to lie around some gorgeous sets while wearing even more gorgeous dresses. But we already knew Kidman was good at rocking fancy frocks.
What the video doesn't tell us is how Kidman actually acquits herself in this role. She doesn't look much like Grace Kelly to begin with, but there's only so much the costume and makeup team can do about that. It'll be more interesting to see whether she can capture the personality of this beloved icon.
Grace of Monaco picks up with Kelly during the early years of her marriage, as she eases into her new role as princess. When a political dispute arises between Prince Rainier III (Roth) and French president Charles Charles De Gaulle (André Penvern), she attempts to intervene.
The Weinsteins clearly have Oscar hopes for this one, and given the subject matter and the talent involved we can't say we blame them. However, it's tough to tell just from this trailer whether there's much substance beyond this elegant veneer. The teaser itself has about as much depth as a perfume ad.
Milo Ventimiglia, Parker Posey, and Derek Jacobi also star. Roger Ashton-Griffiths plays Alfred Hitchcock, making him the third actor to do so within the past year. Grace of Monaco stars November 27.