'Insidious: Chapter 2' - What Did You Think?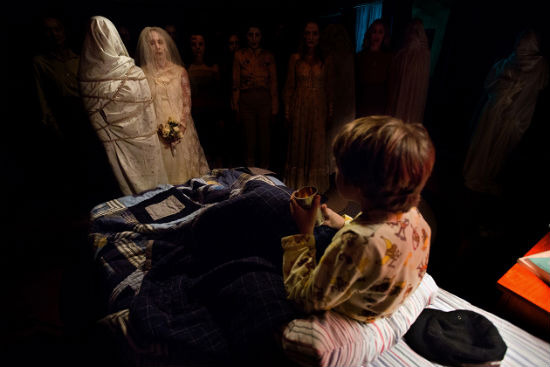 When James Wan's Insidious hit theaters in 2011, there were no expectations. The $1.5 million movie ended up grossing almost $100 million worldwide and created a legion of fans. That happened because Wan and screenwriter Leigh Whannell (co-creators of the Saw series) conceived a relatable, terrifying world where a family, rather than a house, was haunted.
Just two years later, with the Friday the 13th release of Insidious: Chapter 2, Wan faces huge expectations. Not only does he have to follow up that first film, but he's coming off the massive hit The Conjuring and is next making Fast and Furious 7. Tell us what you thought of the second chapter of Insidious, after the break.
In the original film, the son of Patrick Wilson and Rose Byrne has a unique ability to project his astral self; he can send his consciousness into a place called The Further, a sort of evil purgatory. There he gets trapped and the terror begins. When the final credits rolled, audiences were glued to their seat in fear and also full of questions about this world and these characters.
Insidious Chapter II does its best to live up to those expectations by not only continuing the story of the first film, but enhancing it quite a bit. Huge chunks of narrative fill in gaps and answer lingering questions set up in the original. Some may feel those answers are given precedence to the scares this time around, and that's where you come in. Below, let us know what you though of this weekend's Insidious Chapter II and feel free to use as many spoilers as possible. (Also, check out our interview with Wan and Whannell).