Jamie Foxx Confirms Villain Ideas For 'The Amazing Spider-Man' Sequels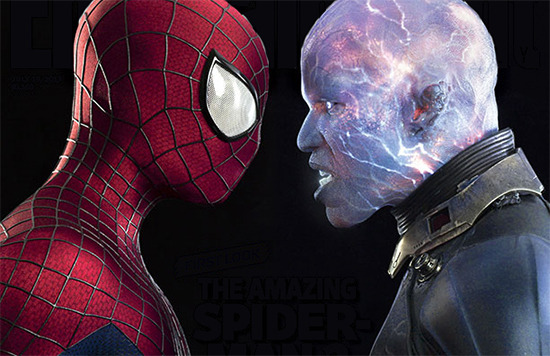 With a couple villains appearing in The Amazing Spider-Man 2, and plans set to Sony for third and fourth films in Marc Webb's take on the character, there has been a lot of speculation about whether or not we'll see some emulation of The Avengers in one of the latter movies. Specifically, will there be a team?
Clearly there aren't extra heroes to form a team around Spidey, but what about a bunch of bad guys? Jamie Foxx, who plays Electro in the first sequel, has confirmed that Sony is at least talking about the idea.
Total Film spoke to Foxx, who said,
Yes, they actually talked about it, the Sinister Six. So, fingers crossed, because when you think about it, electricity never dies, it just goes to a different place.
Here's video of the interview, in which Channing Tatum also talks about wanting to play Gambit:
That goes together with suggestions that Chris Cooper could end up as the Green Goblin in the third movie, and the knowledge that Paul Giamatti's Rhino will have an expanded role in that film, too. Oh, and there was that photo posted not long ago, that really seemed designed to mess with fans. Just add the Vulture, and the bad-guy team is just about ready to go.
The Amazing Spider-Man 2 opens on May 2, 2014. The film also stars Emma Stone, Chris Cooper, Shailene Woodley, Paul Giamatti, Felicity Jones, Martin Sheen, Paul Giammatti, and Colm Feore. The Amazing Spider-Man 3 is planned for June 10, 2016, and The Amazing Spider-Man 4 will hit theaters on May 4, 2018.
In The Amazing Spider-Man™ 2, for Peter Parker (Andrew Garfield), life is busy – between taking out the bad guys as Spider-Man and spending time with the person he loves, Gwen (Emma Stone), high school graduation can't come quickly enough. Peter hasn't forgotten about the promise he made to Gwen's father to protect her by staying away – but that's a promise he just can't keep. Things will change for Peter when a new villain, Electro (Jamie Foxx), emerges, an old friend, Harry Osborn (Dane DeHaan), returns, and Peter uncovers new clues about his past.