Julianne Moore Confirmed For Two-Part 'The Hunger Games: Mockingjay'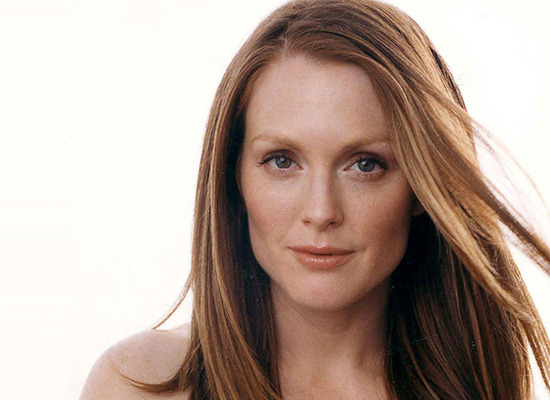 Among the new actors Francis Lawrence has recruited for his two-part adaptation of The Hunger Games: Mockingjay, the most interesting might be Julianne Moore. The actress has been rumored to play Alma Coin, the character who first appears in Mockingjay, the third installment of Suzanne Collins' dystopian YA trilogy.
Now Moore has been confirmed for the role. She'll join the returning cast from The Hunger Games: Catching Fire, which hits theaters this November, and other new recruits Natalie Dormer,  Evan Ross, and Stef Dawson.
Angie previously summarized Coin's part of the story saying, "In short, Alma Coin is a politician who works with Katniss to lead the rebellion against the Capitol. Despite their common goals, Katniss is wary of Coin due to the older woman's cold, manipulative personality." There's a bit more detail below, though it could be considered spoilerish for those who know the story only from the films.
Here's the press release from Lionsgate:
Lionsgate announced today that four-time Academy Award® nominee Julianne Moore (BOOGIE NIGHTS, THE HOURS, THE END OF THE AFFAIR and FAR FROM HEAVEN) has joined the cast of THE HUNGER GAMES: MOCKINGJAY PARTS 1 & 2 as President Alma Coin, the leader of the rebellion against the Capitol.Moore will star opposite Academy Award winner Jennifer Lawrence, Josh Hutcherson and Liam Hemsworth in the third and fourth installments of the global blockbuster HUNGER GAMES franchise, slated for release in November 2014 and November 2015, respectively. She will join new cast members including Natalie Dormer, Stef Dawson and Evan Ross.In addition to her four Oscar-nominated roles, Moore has previously starred in CRAZY STUPID LOVE, THE KIDS ARE ALL RIGHT, CHILDREN OF MEN and last year's HBO political drama film GAME CHANGE, which netted her an Emmy®, Golden Globe® and SAG Award®. She will next be seen in DON JON, SEVENTH SON and CARRIE.Mockingjay, Part 1 is currently set to open November 21, 2014, and Mockingjay, Part 2 will follow on November 20, 2015.