Ben Affleck's Batman Will Be "Tired And Weary"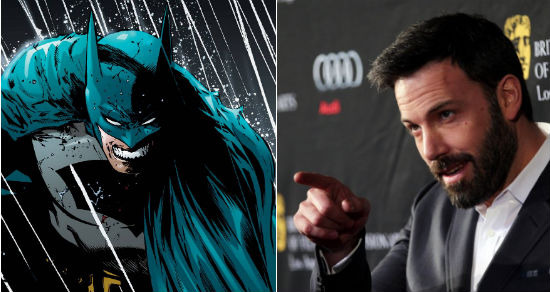 Zack Snyder's choice of teasing text from The Dark Knight Returns, as well as casting Ben Affleck, both offer huge hints of what we can expect July 17, 2015. That's when Snyder's DC expanding follow up to Man of Steel, likely titled Batman vs. Superman, will be released. Affleck is older than any other new Batman ever cast and in The Dark Knight Returns, Bruce Wayne is an older gentleman who has retired from crime fighting.
So we know Snyder's Caped Crusader will be older. But how will he carry himself? Warner Bros CEO Kevin Tsujihara told investors Affleck's Batman is "kind of tired and weary and seasoned and been doing it for a while."
The quote came from the Bank of America Merrill Lynch Media, Communications and Entertainment Conference, reported on by Deadline.
After describing the Batman as "tired, weary and seasoned," Tsujihara went on to praise Affleck saying he's "perfect for the vision....We think it's going to be huge."
If Batman has "been doing it for a while" in the new film, does that mean Superman was introduced into a world that's already familiar with superheroes? One of the great things about Man of Steel was how insulated the film was, never touching upon how the events changed the outside world. But Lois Lane's reactions to finding this person seemed to suggest he was a totally new anomaly. How those two viewpoints merge in David Goyer's script will be interesting to see.
How do you see the tired and weary Batman fitting in with the new, fresh Superman?