Alex Murphy Glows And Glowers On First 'RoboCop' Poster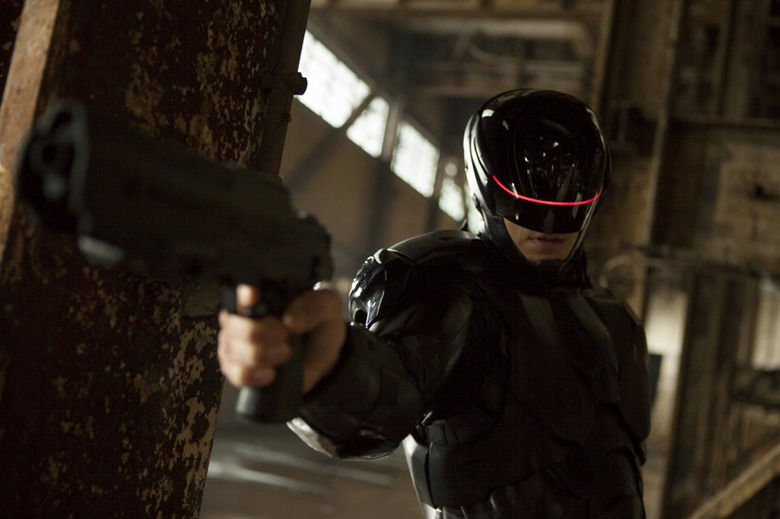 The first trailer for Jose Padilha's RoboCop remake suggested an interesting mix of old and new, not unlike RoboCop himself. The basic premise hasn't changed, and the promo contained plenty of nods to Paul Verhoeven's original. But it's also clear that, for better or for worse, Padilha's version is its own thing, with whole new subplots, characters, and themes.
Now the first poster has landed, and it takes a similar approach. There's a cute little reference to the 1987 film, but the sleek, modern aesthetic is a reminder that this is not your dad's RoboCop. Or perhaps it'd be more appropriate to say this is your kid's RoboCop, since those who were old enough to catch Verhoeven's film when it first came out are probably parents themselves by now. Check out the poster after the jump.
[via The Film Stage]
The tagline is lifted straight from the old RoboCop, though it stops short of calling us creeps. Otherwise, it doesn't tell us much about the movie we didn't know. We've seen the black suit before, and we're already familiar with Joel Kinnaman's chiseled jawbone.
Robocop opens February 7. Gary Oldman, Michael Keaton, Abbie Cornish, Jackie Earle Haley, Michael K. Williams, Jennifer Ehle, Jay Baruchel, Marianne Jean-Baptiste, and Samuel L. Jackson also star. Revisit the trailer here.
In RoboCop, the year is 2028 and multinational conglomerate OmniCorp is at the center of robot technology. Overseas, their drones have been used by the military for years – and it's meant billions for OmniCorp's bottom line. Now OmniCorp wants to bring their controversial technology to the home front, and they see a golden opportunity to do it. When Alex Murphy (Joel Kinnaman) – a loving husband, father and good cop doing his best to stem the tide of crime and corruption in Detroit – is critically injured in the line of duty, OmniCorp sees their chance for a part-man, part-robot police officer. OmniCorp envisions a RoboCop in every city and even more billions for their shareholders, but they never counted on one thing: there is still a man inside the machine pursuing justice.