"Darkness" Is Holding Up 'Bill & Ted 3', Says Keanu Reeves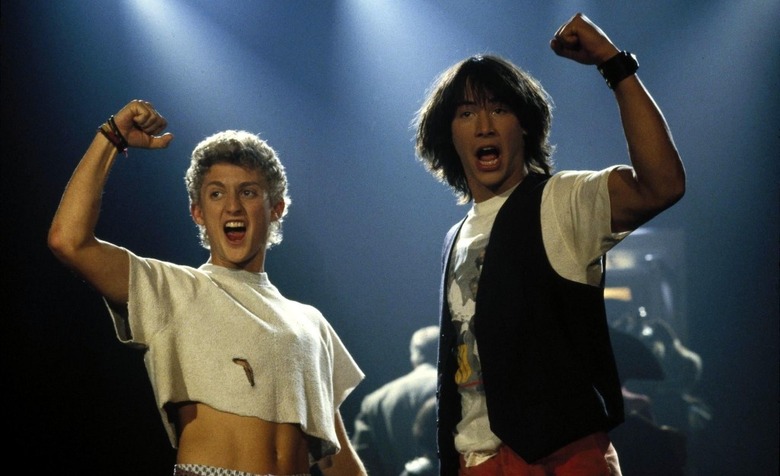 Keanu Reeves and Alex Winter have been talking about a third Bill & Ted for years, and over the past few years we've watched the project slowly move ahead. Winter announced that the script was completed in 2011, and Dean Parisot (Galaxy Quest) was hired to direct in 2012. But over a year later, production still hasn't gotten underway, and now Reeves has an explanation as to why.
In a new interview, the actor explained that "darkness" was holding up the project. It's a much more mysterious answer than the one Winter gave when asked a similar question earlier this year. Hit the jump to read Reeves's quote.
It's a long story. There's lots of subterfuge and conspiracy theories. There's a whole thing... I might have to do one of those independent press, conspiracy, other-name kind of [statements] explaining why it hasn't happened yet, because it's pretty dark out there.
Reeves confirmed that "there is [a script]," but added, "There's all sorts of stuff and it just can't — it's just — there's darkness out there that's keeping it from happening." He later continued, "It's not winning right now. It's that part of the story where it's looking grim. It's the dark period of the idea!"
Reeves's vague statements don't offer much of a clue as to what, exactly, this "darkness" is. Perhaps he's referring to practical or financial difficulties, or maybe they've just hit a creative roadblock. As of August, Reeves was telling press that they were waiting on a new draft of the script from writers Chris Matheson and Ed Solomon.
Whatever he's talking about, it sounds far less hopeful than the status update Winter gave earlier this year. His explanation was that "there really isn't a holdup," and that the only reason it seemed like there was was because he, Reeves, Matheson, and Solomon had started talking about the film so early on.
Regardless of what happens with Bill & Ted 3, though, Reeves has plenty of other projects demanding his attention at the moment. He's currently promoting his feature directing debut Man of Tai Chi, which opens November 1 in the U.S., and has 47 Ronin due out December 25. Beyond that, he's attached to star in space adventure Passengers, directed by Brian Kirk (Game of Thrones).