'August: Osage County' Trailer #2: Is This The Year's Most Star-Studded Cast?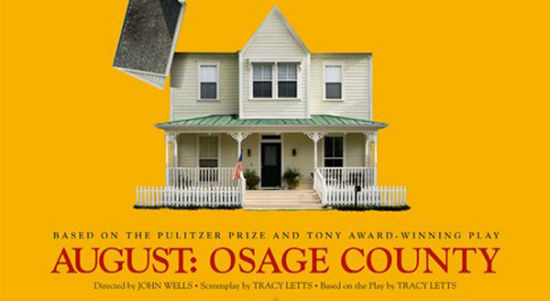 Fall brings no shortage of star-studded prestige pics, but even in that crowd August: Osage County stands out. The John Wells-directed film stars Meryl Streep and Julia Roberts and Benedict Cumberbatch and Ewan McGregor and Chris Cooper and Abigail Breslin (plus half a dozen others) which means we're all but guaranteed to see it making waves during awards season.
Based on the Pulitzer Prize-winning play by Tracy Letts, August: Osage County chronicles a family gathering in the Midwest. So the setup is fairly simple, but as anyone who's ever suffered through an extended family trip can attest, it's ripe for hilarity and emotion. A new trailer has been released by The Weinstein Co., and you can check it out after the jump.
The trailer comes hot on the heels of the film's TIFF premiere. Advance word so far has been good but not spectacular. THR wrote that it was a "solid reworking of the Broadway hit, though even with this high-wattage cast some electricity is missing," while Variety enjoyed its "scalding intensity" but worried that the movie wouldn't "win the hearts of highbrow critics."
August: Osage County opens November 8.
AUGUST: OSAGE COUNTY tells the dark, hilarious and deeply touching story of the strong-willed women of the Weston family, whose lives have diverged until a family crisis brings them back to the Midwest house they grew up in, and to the dysfunctional woman who raised them. Tracy Letts' Pulitzer Prize-winning play of the same name made its Broadway debut in December 2007 after premiering at Chicago's legendary Steppenwolf Theatre earlier that year. It continued with a successful international run and was the winner of five Tony Awards in 2008, including Best Play. AUGUST: OSAGE COUNTY is directed by John Wells (THE COMPANY MEN) and features an all-star cast, including Meryl Streep, Julia Roberts, Ewan McGregor, Benedict Cumberbatch, Abigail Breslin, Sam Shepard, and Chris Cooper.