Ridley Scott's 'The Counselor' Unveils A New Clip And 5 Character Posters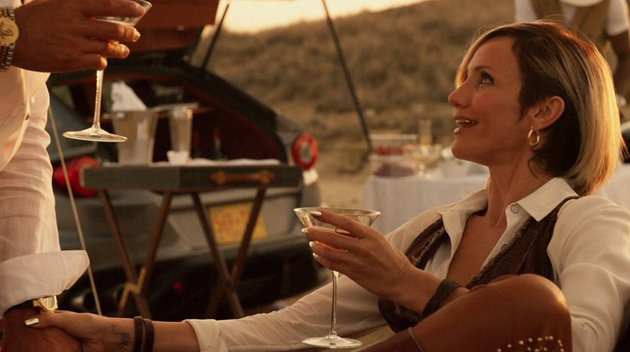 Of all the dangerous criminals in The Counselor, Cameron Diaz's Malkina may just be the iciest. In a new clip from the Ridley Scott-directed drama, she shows her steely side to Reiner (Javier Bardem), prompting even the hardened career criminal to ask, "You don't think that's a bit cold?"
But at least Malkina's femme fatale appeal comes across on her character poster. The same can't be said for poor Laura, played by the stunning Penelope Cruz in plain-Jane mode. Reiner, Westray (Brad Pitt), and the Counselor himself (Michael Fassbender) all look sleeker, edgier, and just plain sexier than Cruz does. Hit the jump to check out the posters and watch the clip.
Diaz doesn't quite have the prestigious reputation that her co-stars do. While she's earned praise for dramatic turns in films like Vanilla Sky and Being John Malkovich, her recent filmography consists mostly of lukewarm comedies like What to Expect When You're Expecting and Bad Teacher.
But The Counselor looks like it could be one of her most interesting works in years. There's a real aura of menace to her, even when she's sitting perfectly still and smiling, and she has a magnetism that makes it easy to understand why men like Reiner are so irresistibly drawn to her.
FilmStarts (via The Film Stage) unveiled the international character posters.
Poor Cruz. Everyone else looks glam and badass, and she looks... vaguely concerned. Though I suppose that works for the character. It's obvious that Laura doesn't quite fit into this dark underworld.
Written by Cormac McCarthy, The Counselor centers around a respectable lawyer (Fassbender) who turns to the drug trade for easy money, and then quickly discovers that the money is not so easy after all. The film opens October 25.
Ridley Scott and author Cormac McCarthy join forces in the motion picture thriller THE COUNSELOR, starring Michael Fassbender, Penélope Cruz, Cameron Diaz, Javier Bardem, and Brad Pitt. McCarthy, making his screenwriting debut and Scott interweave the author's characteristic wit and dark humor with a nightmarish scenario, in which a respected lawyer's one-time dalliance with an illegal business deal spirals out of control.