First Plot Details Revealed For Delayed 'Pirates Of The Caribbean 5'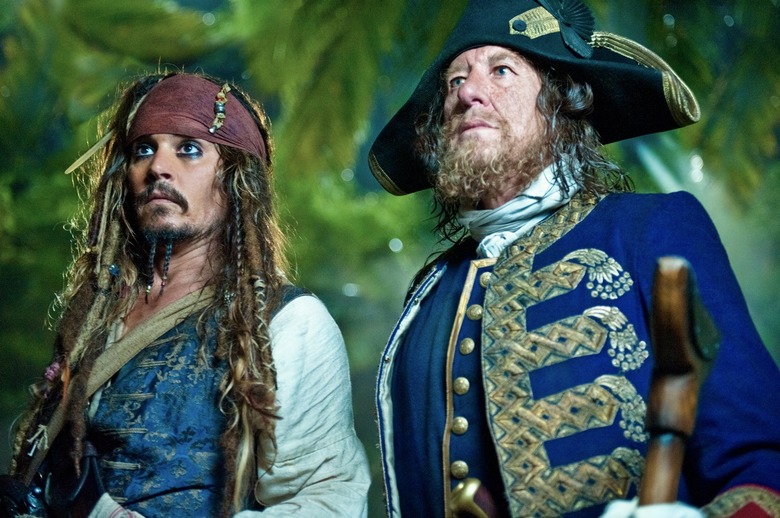 Though 2010's Pirates of the Caribbean: On Stranger Tides was a billion dollar global blockbuster, critics hated it. It sits at a rotten 33% on Rotten Tomatoes. Might the producers think "if the movie was adored, maybe we could have made more"? That possibility was certainly part of Tuesday's news that Pirates of the Caribbean 5, originally scheduled for a July 2015 release date, has been delayed. Disney executives said the film "isn't there yet" scriptwise, and the delay will allow producer Jerry Bruckerheimer, screenwriter Jeff Nathanson, and directors Joachim Rønning and Espen Sandberg to fine tune the script into a film that is critically and financially successful.
That much we know. What we don't know is what the film is about and what the specific issues are. One site has gotten their hands one the first plot details for the film, rumored to be called Pirates of the Caribbean: Dead Men Tell No Tales, and they illuminate both that title as well as some potential issues.
Bleeding Cool is the site that got details on the film's plot. There's no mention of how, or what version of the script this is referring to, so don't expect everything to be 100% on the mark once the film is released.
Here are the major bullet points revealed:
There's a new female lead and foil for Jack Sparrow. She's suspected of witchcraft, but is actually a scientist.
Witches are a big part of the movie.
One of the film's leads is a ghost, hence the title. He's a "former member of the British military now sided with Barbossa on a revenge mission."
Two new, young, romantic leads – a boy and girl – both from farming families get caught up in the mix.
The film stars with an "awkward wedding" and ends with "a riff on the myth of the Bermuda Triangle."
The Bleeding Cool article states the farm boy and girl are "pure subplot fodder" and could easily be cut. That sounds like the Philip and Syrena roles in On Stranger Tides. If you put a gun to my head I couldn't tell you what purpose they served in that film.
But talking ghosts, witches, and a whip smart girl who puts Jack Sparrow to task? That all sounds good. It'll likely be some time, though, before we learn how it all fits together.
Pirates of the Caribbean: Dead Men Tell No Tales currently is without a release date. It'll likely be out Summer 2016.