Sequel Bits: 'Austin Powers 4,' 'Green Inferno 2,' 'Bad Santa 2,' 'Leprechaun: Origins, 'The Croods 2'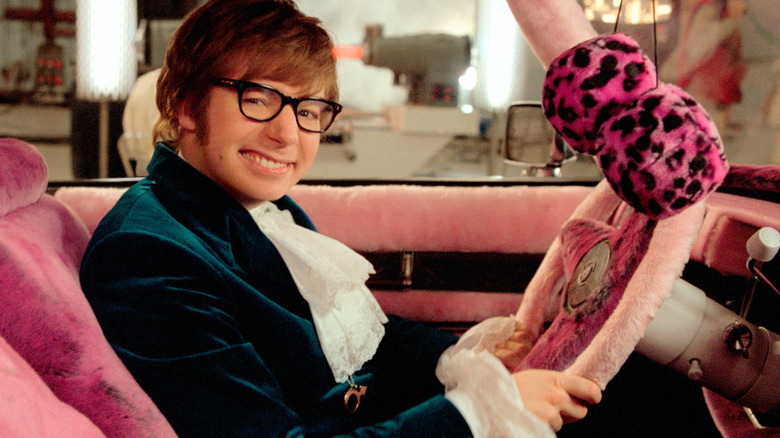 Mike Myers has a documentary at the Toronto International Film Festival, but what's the latest on the Austin Powers series? Read his response below, along with a bunch of other sequel news including:
A sequel to Eli Roth's upcoming The Green Inferno is now in development. It's called Beyond the Green Inferno.
Director  Zach Lipovsky explains how the Leprechaun film, Leprechaun: Origins, is a reboot and not a sequel.
Billy Bob Thornton isn't sure when Bad Santa 2 is going to happen.
The main voice actors are set to return for The Croods 2.
Mike Myers spoke to Deadline about his new documentary, Supermensch, and eventually the talk turned to the Austin Powers franchise. When asked when audiences might see a new Austin Powers film, Myers cryptically answered:
I'm still figuring that out.
So don't hold your breath Austin Powers, fans.
Eli Roth's latest film, The Green Inferno, premiered to solid buzz at the Toronto International Film Festival and though it has not yet been picked up for distribution, a sequel is already in the works. Variety reports Roth will produce Beyond the Green Inferno and Nicolas Lopez will direct. Lopez directed this year's horror film Aftershock, which was also produced by Roth. The pair will co-write the script along with Guillermo Amoedo. Filming is expected to start Spring 2014.
We've been reporting on a reboot of Leprechaun for some time and now there's a minor update on the film. Produced by WWE Studios, the film is called Leprechaun: Origins and director Zach Lipovsky (On the Lot) spoke to Crave Online about the film. Filming is done and it's on track for release early 2014. Here's his quote about how it fits in with the rest of the franchise.
It's basically a complete refresh, reboot. We're not trying to copy or really do at all what the last one did. It kind of did what it was doing so well, that's why they made so many of them, but we're going a completely new direction and completely new world and everything which is why they were excited by what I brought to the table because I was pretty new to the whole Leprechaun thing myself. It was kind of what can we do to make something that's a legitimate horror movie rather than something a bit more campy?
The sequel to Bad Santa, Bad Santa 2, has a director and writer attached. Star Billy Bob Thornton is also schedule to come back. The problem is, there's no real timetable. Talking to Collider, Thornton blamed himself for speaking too early in regards to the film.
We all want it to happen. It's all logistics. That's this business crap, with the rights here, and a person who thinks this, and this person wanting that kind of script. It's just that stuff. They're still working on it. When they first said, "Hey, we're gonna make a sequel to Bad Santa," I said, "That's nice. I loved playing that character." It's become an iconic movie, and the public wants to see a sequel. I said, "I've never done a sequel, but it makes sense to me to do this sequel." It's the kind of movie you do a sequel for, so I was all for it.
I think our mistake, and certainly my mistake, was that when people heard about it on the internet or in interviews, they would ask me, "Are you guys doing Bad Santa?," and I would say, "Oh, yeah, we're gonna do it this Fall." I guess I'm still a little bit of a hayseed. I don't know. When people tell me stuff, I still believe it. So, I think the mistake was that when they said they were gonna do it, we just said, "Yeah, we're doing it." The fact of the matter is, we may be doing it. They are working on it. It could be the end of this coming year, or it could be next year, or never. That's the real honest answer.
Though you may not be aware, the DreamWorks Animation film The Croods was a massive hit earlier this year, grossing almost $600 million globally. That means a sequel is now in development and the major voice actors will be back. In an interview with Coming Soon, directors Chris Sanders and Kirk DeMicco revealed Nicolas Cage, Ryan Reynolds and Emma Stone have all signed for the sequel. When will that happen though? They have no idea:
There's not much to talk about yet because we've got a big lump of clay and we're forming it as we speak.