Brad Pitt On A 'World War Z' Sequel: "We're Certainly Talking About It"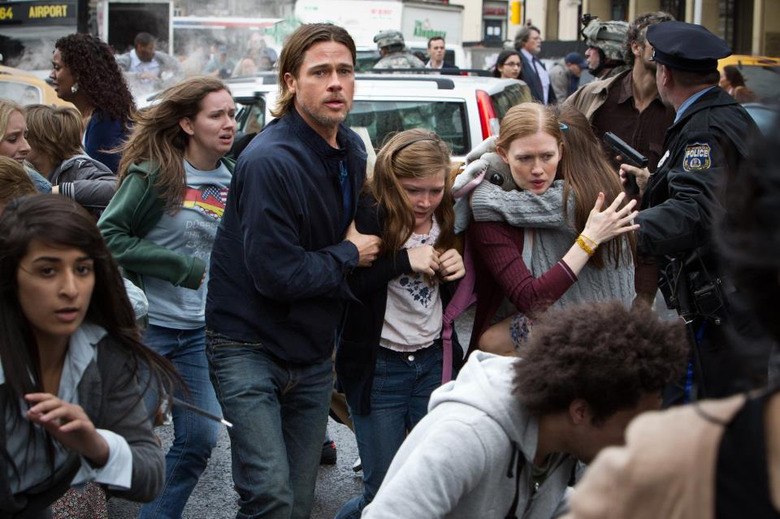 World War Z was the surprise blockbuster of the summer. It was a surprise because Marc Forster's adaptation of the Max Brooks novel had been in development for years. Then, once it started filming, the real problems began. Producers realized the ending didn't work, so a new was written and shot, which ended up costing millions. The gamble paid off to the tune of $536 million internationally and counting.
The new ending had more closure than the original one, but also left a world of possibility ahead. And $500 million plus makes it pretty obvious that possibility will be explored in a sequel. But when? Brad Pitt was at the Toronto Film Festival and spoke about the status of a potential World War Z sequel.
Here's the video of Pitt answering the question, via Variety. It's transcribed below.
Here's Pitt:
We're certainly talking about it, yeah.  We have so many ideas on the table from just the time we spent developing this thing and figuring out how zombie worlds work.  We have so many ideas and so much information, we think we have a lot of stuff to mine from.  We're going to do our best and see what we get out of it.
Variety also spoke to Pitt's co-star in the film, Mireille Enos, who said: "We'll wait and see how the script turns out but yes, I'd love to come back."
As Pitt is one of the producers, it seems likely he'll have a lot of input on where the second story goes and whom will be hired to write it. That would be the next step. And when that happens, we'll let you know here.
What do you think should happen in a World War Z sequel?