'The Railway Man' Trailer: Colin Firth Confronts His Past In WWII Drama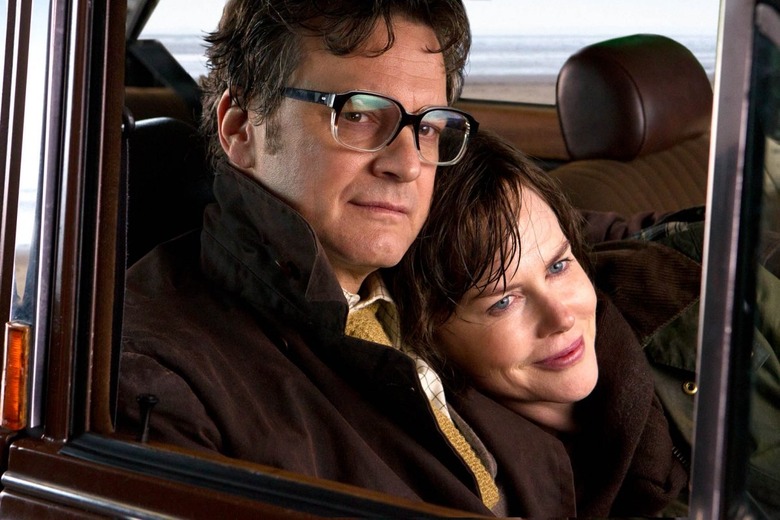 Almost three years after he nabbed an Oscar for The King's Speech, Colin Firth is revisiting World War II from a very different perspective. Directed by Jonathan Teplitzky (Burning Man), The Railway Man tells the true story of veteran Eric Lomax (Firth), who was held as a prisoner by the Japanese during the war.
Decades later, still haunted by that period of his life, Lomax seeks closure by tracking down the army officer (Hiroyuki Sanada) who once tortured him. Nicole Kidman co-stars as Lomax's wife, and Stellan Skarsgård as his best friend. Jeremy Irvine and Tanroh Ishida play the younger versions of Lomax and his tormentor. Watch the trailer after the jump.
Despite having been forced to work on the Burma-Siam railway during his time as a POW, Lomax retains an enthusiastic love of trains. It's on a train that he meets Patricia (Kidman), whom he quickly falls for and then marries. But as his PTSD threatens their marriage, he's forced to face his past once and for all.
The story itself is undeniably moving, particularly since it's based on Lomax's own memoir, and reports from The Railway Man's TIFF debut describe a sobbing audience. However, Teplitzky's approach apparently leaves something to be desired. Variety complained that the film was "decidedly old-fashioned — and also dull as ditchwater," while THR found it "plodding" and "stodgy."
On the plus side, Rope of Silicon adored the ending, enthusing that "the finale becomes the best part of the film, elegantly told and respectful of both the subject and not at all pandering to the audience." The Guardian concurred: "Teplitzky finishes with a kind of catharsis rarely on offer: meek and deeply felt, a mature and moving exorcism."
Based on his best-selling memoir, The Railway Man tells the extraordinary and epic true story of Eric Lomax, a British Army officer who is tormented as a prisoner of war at a Japanese labour camp during World War II. Decades later, Lomax discovers that the Japanese interpreter he holds responsible for much of his treatment is still alive and sets out to confront him, and his haunting past. Directed by Jonathan Teplitzky, and starring Academy Award-winner Colin Firth, Jeremy Irvine, and Academy Award-winner Nicole Kidman, the film is a powerful tale of survival, love and redemption.