Josh Brolin Plots His Escape In First Clip From Jason Reitman's 'Labor Day'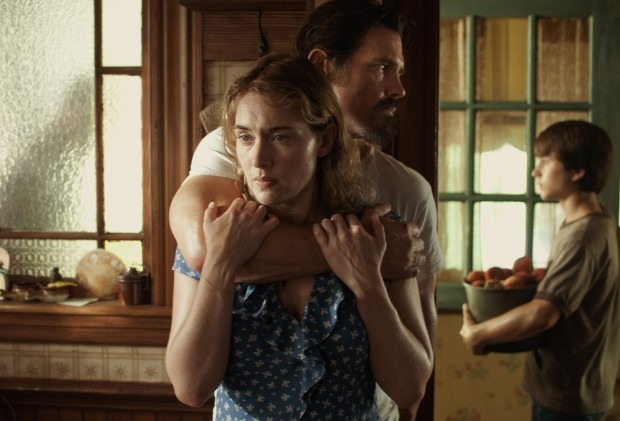 If Jason Reitman's first four films – Thank You For Smoking, Juno, Up in the Air, and Young Adult — had one thing in common, it was a sharp sense of humor. Even when things got emotional, there was always room for a hamburger phone or a cancer/"can sir" pun.
It's surprising, then, that he takes such a different turn with his fifth. Labor Day is an earnest drama about a boy (Gattlin Griffith), his mom (Kate Winslet), and the escaped convict (Josh Brolin) who seeks shelter with them over a long weekend. While a trailer has yet to come out, the first clip offers a peek at how dramatically this film differs from his earlier work.
Happily, the risk he takes in stepping out of his wheelhouse seems to pay off. Labor Day has mostly received strong reviews on the festival circuit, with several reviewers going so far as to call it his best work yet. Read the early buzz and watch the clip after the jump.
First Showing was one of Labor Day's biggest fans, rating it 9/10.
It's not often I see a film that leaves me speechless – truly and utterly incapable of forming thoughts because my own mind is still swirling, still full of emotion. Yet there I sat, as the credits rolled on Jason Reitman's latest film Labor Day, and I didn't know what to say. Aside from "floored." It left me in such an interesting state-of-mind, endlessly processing all the emotions I just experienced and how beautifully it was handled. And it's not just that I was blown away or impressed, as I love Reitman's filmmaking, but also because I was so affected, so emotionally wrapped up in the story and the characters, that I'm still having trouble putting together the right words to explain my feelings on this masterful film. Is it Reitman's best work? I think so.
Film School Rejects awarded it an A-:
Labor Day is Reitman's most accomplished, mature, and emotional work yet, a feat for any filmmaker, but one especially exciting for a young one like Reitman whose work gets markedly and exponentially better with each outing. Reitman's ability to grow and change his work tremendously between each production is notable enough, yet what's even more uncanny is that even as his resume improves, his past work doesn't suffer upon reflection (everything he's made is still good, even when his films get better) – it's just that Labor Day is the best one yet.
THR was particularly impressed with the acting:
Managing to look both frumpy and alluring, and summoning will and desire from inside a somewhat worn exterior in the manner of her fine recent work as Mildred Pierce (another pie maker!), Winslet outstandingly reveals the numerous ways Adele is pulled emotionally by the sudden eventfulness of her life after all these years. Winslet has always been good at portraying the embrace of romance and sex, but this is augmented by the gradual revelation, in crisp flashbacks using younger actors, that brought her to the point of having signed off on love.
Film.com gave it a solid 7.7 points (out of 10):
Unfolding over the eponymous holiday weekend in 1987, Jason Reitman's adaptation of Joyce Maynard's "Labor Day" is as consistently assured a piece of filmmaking as any we've seen from the filmmaker and very much in keeping with the decreasingly glib nature of his output ("Thank You for Smoking," "Juno," "Up in the Air," "Young Adult"), although such naked sentiment does pile on in the home stretch.
HitFix admired Reitman's new direction:
The movie is a highlight for Reitman and might be his most deeply felt work yet. It's full of texture, less interested in telling you a story than showing you one, by which I mean, this isn't a movie — like "Up in the Air," like "Thank You for Smoking" — that's actively looking for a place to land. It's more reserved than that. Rich though the film may be, it doesn't have the swagger others have come to expect of his filmmaking, which was already assured, and it's an incredible step in a different direction for the 35-year-old director.
In Contention likened Reitman to some other great directors:
No matter what side you fall on, a lion's share of the credit of what works has to go to Reitman. "Labor Day" is the antithesis of the loud and brash tone he made his name with in films such as "Young Adult" and don't expect anywhere near the amount of laughs as "Up in the Air." Instead, "Labor Day" is a drama that seems more in the wheelhouse of a director such as Sam Mendes (yes, Winslet's ex-husband), Todd Field (yes, Winslet's collaborator on "Little Children") or even Derek Cianfrance. Reitman has never teased such versatility in terms of tone or visuals before and what he's achieved here should continue to expand his creative horizons.
Variety was a bit more skeptical:
Subtract the kidnapping, and "Labor Day" depicts the most romantic long weekend a divorced hausfrau could hope for, as a swarthy stranger waltzes into her life, passing the time by fixing her car, making pie and teaching her awkward son to play baseball. Factor in the notion that the outsider is an escaped killer, however, and this all-summer-in-a-day story starts to feel as baked as the convict's peach pies.
The Guardian, which gave the film three stars out of five, didn't quite buy it either:
It's brilliantly executed, from the gliding camera and the poise of staging to Rolfe Kent's score, which keeps us guessing as to the genre, then sustains tension once we're on solid ground. The acting's as accomplished as you'd expect: Winslet a trembling mess, Brolin sure-footedly walking a tightrope. That I remained dry-eyed, despite being primed to cry by advance word from Telluride, which spoke of sobbing audiences, is down to the absurdity of circumstance: this is a heck of a potboiler to swallow whole.
The Playlist issued a C:
Reitman seemed to have achieved a masterful new balance between comic asides and personal tragedy in his last picture, the seriously underrated "Young Adult," which didn't get much traction with either the Academy or public. He's made as polar opposite a movie imaginable this time, which may land him in better stead, though it's hard to tell from the mixed reaction in Telluride. Getting earnest is swell, but for anyone who thought emotional complexity would be a hallmark of all Reitman's films, that peach pie is a little hard to swallow.
Speaking to the Toronto Sun, Reitman acknowledged that this new, sincere tone was a challenge for him. "I was making a movie without comedy, without dialogue, without sarcasm, without quick cuts, without songs — so many moves I've got used to using, and couldn't use any of them on this film," he said. "I had to grow up a little bit on this movie."
Fans of Joyce Maynard's original novel will be happy to hear that Reitman's movie sticks closely to its source material. "This is probably the most faithful adaptation I have made or will ever make," he told the LA Times. "I was trying to capture how I felt when I first read the material." (Both Thank You for Smoking and Up in the Air were adaptations, though looser ones.)
Labor Day gets a limited release starting December 25 before expanding in January.