Benedict Cumberbatch On 'Star Wars:' "We'll Have To Wait And See"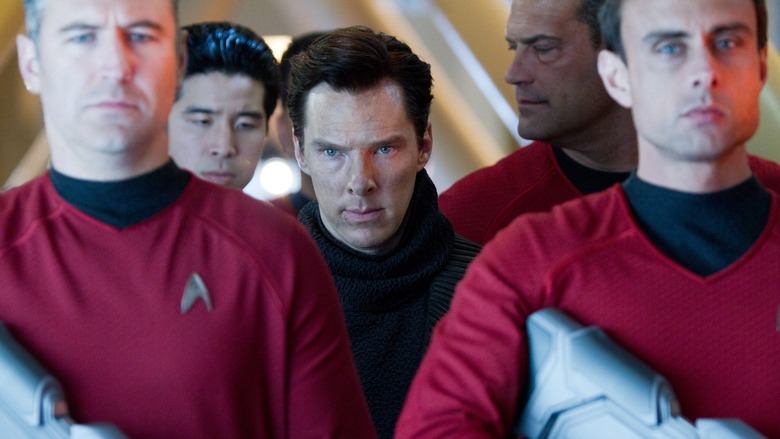 A rumor broke last week suggesting Benedict Cumberbatch was likely to be cast as a major part of J.J. Abrams' Star Wars Episode VII. Lucasfilm and Disney didn't comment, but the actor's reps denied the claim. Then the actor himself was at the Toronto International Film Festival promoting multiple movies, and was posed with the question. His response:
This is the simple truth. J.J. and I have worked together before. I would love to work with him again. No offer has been made. That is that. And that is that.
Seems to close the door on the idea, but as we know with casting, especially for J.J. Abrams movies, that is not necessarily "that." "No offer has been made" doesn't always mean "I haven't been approached nor will I appear in this movie." The door remains open. Now, a new quote opens the door even more while also pretending to be a denial. Read it below.
Cumberbatch's new quote in regards to the Star Wars rumors is as follows, thanks to The Telegraph:
Of course I'd love to do Star Wars and work with JJ Abrams again because we had such a good time on Star Trek. But nobody has been cast and there are no offers out to anyone apart from the regulars who are returning. So that's that rumour quashed...We'll have to wait and see.
Again, that's not a "quashed" rumor.  In fact it's almost the opposite. First of all he offers an apparent confirmation Mark Hamill, Harrison Ford and Carrie Fisher are returning for the film. It's something we all kind of know, but has yet to be officially confirmed. Does Cumberbatch known this for sure from contact with Abrams? Or is he just a fan who has read the rumblings online?
Then there are phrases like "we'll have to wait and see," "nobody has been cast yet," and "there are no offers out to anyone." None of those statements are declarative. He never says "No, I am not going to be in Star Wars." Instead, it sounds more like someone who has something to hide, and is trying to work around the truth.
Is Benedict Cumberbatch really going to appear in Star Wars Episode VII? Who knows. Maybe he was asked and couldn't work out a deal. Maybe he absolutely is. Or maybe his PR team got a hold of him after that first quote and coached him on a more alluring denial. Mystery is better than "No," no matter what the truth.
Do you think Cumberbatch backtracked a bit because he's in the movie or for another reason?