Sequel Bits: 'Showgirls 2', 'Machete Kills', 'Sin City 2', 'Bourne', 'Transformers 4'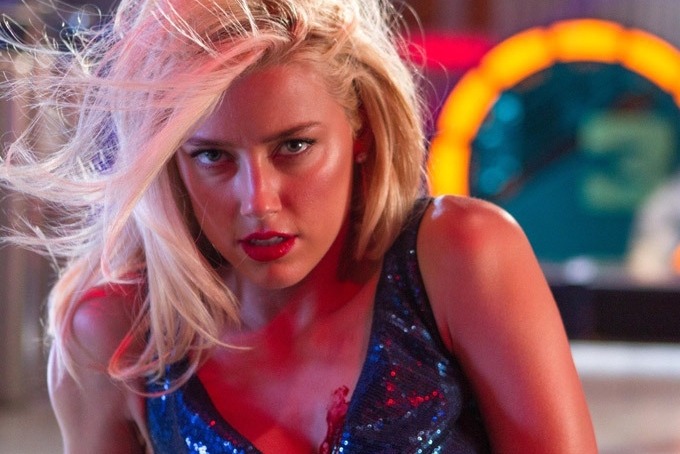 You know how we've all been clamoring for a Showgirls sequel? Well, too bad, because we're getting one anyway. Kind of. Also after the jump:
Watch a clip from the direct-to-DVD sequel Curse of Chucky
Paul Greengrass confirms that he has not signed on for more Bourne
Lady Gaga will drop by Robert Rodriguez's Sin City: A Dame to Kill For
Pretty girls and scary weapons abound in new Machete Kills pics
See two new stills from the Rurouni Kenshin sequels landing next summer
Kelsey Grammer chats Transformers 4, and a new set video surfaces
Written by, directed by, and starring original Showgirls actress Rena Riffel, the direct-to-video sequel was first released in 2011. However, Wild Eye Releasing announced this week that it would get a re-release on September 17. Here's the synopsis:
Vegas stripper Penny Slot sets out on an adventure to become the star dancer on a TV series. With fame and fortune in her eyes, she tries to find the pot of gold at the end of the rainbow but instead finds danger in a town more wicked than Sin City. There is a price to pay for success: How bad do you want it?
And the poster: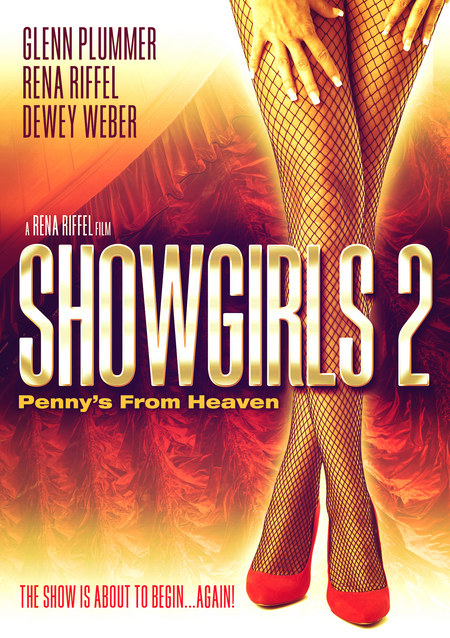 And finally, the trailer:
The new DVD will include a commentary track with Riffel, behind-the-scenes featurettes, deleted scenes, and more. [Broadway World]
Speaking of direct-to-DVD horror shows, we also have a new clip from Curse of Chucky in which a character utters that most dangerous of scary movie lines: "What's the worst that could happen?" Check it out below:
Curse of Chucky, which steers the franchise away from parody and back to horror, hits DVD and Blu-ray on October 8. [Universal Studios]
Those rumors about Matt Damon and Paul Greengrass returning for the next Bourne were swiftly shot down, and now we have a confirming quote straight from Greengrass' mouth. "I've absolutely no idea [where those rumors are coming from]," he said. "I'm not being funny but, no, that's just a figment of someone's imagination."
The director acknowledged that he and Damon had discussed the possiblity of doing more Bourne "quite a while ago." However, he clarified, "We might have a laugh about it, but a serious conversation? Not for a long time."
Moreover, it doesn't sound like he's particularly eager to do another. "Um... listen, I loved the 'Bourne' movies. I loved making them but it's like anything in life, you've got to move on and do different things," he said. [Screen Rant]
Robert Rodriguez must be a huge "Bad Romance" fan. The filmmaker cast Lady Gaga in her first-ever acting role in Machete Kills, and we've now learned that he's followed up by giving her a cameo in Sin City: A Dame to Kill For. And despite her relative inexperience, Sin City star Joseph Gordon-Levitt says she isn't half bad.
She's a great actress. And I didn't know that. You know she came in and I was like, 'Okay, sure, they're having a huge pop star do a scene in the movie, I understand,' but then she came in and like, nailed it! She had her character down, and she was like a total pro and did a great job. I was really impressed.
See what Gordon-Levitt is talking about when Sin City: A Dame to Kill For opens August 22, 2014. [Screen Rant]
Lady Gaga does not appear in this new batch of stills from Machete Kills, but fortunately Amber Heard and Michelle Rodriguez are on hand to fulfill the "hotties with guns" quota. Mel Gibson, Charlie Sheen, Antonio Banderas, Demián Bichir, and of course Danny Trejo also show up.
And the gang's all here in the fiery new poster.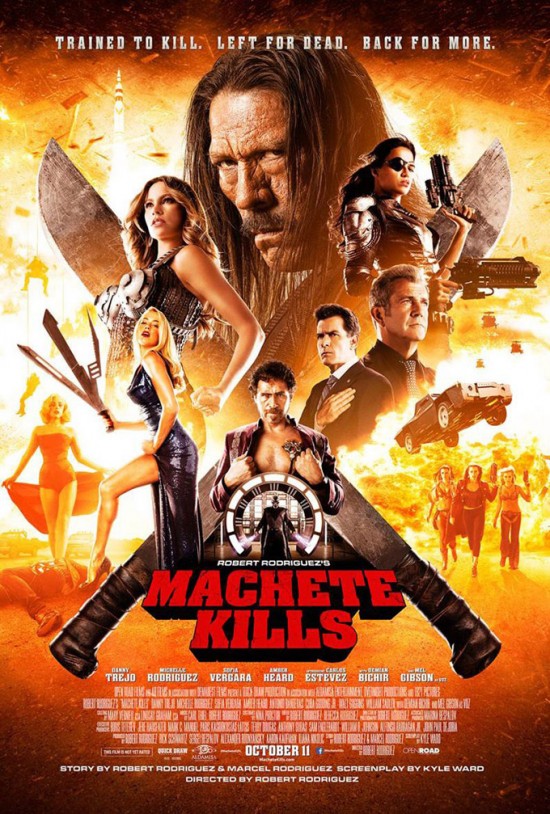 Machete Kills lands October 11. [via MovieWeb and The Playlist]
Most franchises are lucky to get one new installment in per year, but Rurouni Kenshin has not one but two sequels hitting next summer. Keishi Otomo directs both, titled Rurouni Kenshin: The Great Kyoto Fire and Rurouni Kenshin: The End of a Legend. Check out two new stills, featuring star Takeru Satoh, below.
[via Comic Book Movie]
There's been much talk about Transformers: Age of Extinction's new Dinobot characters, but let's not forget that the film also involves a bunch of new humans. Like Harold Attinger, the villain played by Kelsey Grammer.
"He's a no-nonsense guy," Grammer said of his character. "He's lived his life in the shadows for 30 years in the service of his country, and he likes to be unremarkable yet very efficient."
"Unremarkable" does seem like a good way to describe Attinger. As you can see in the set video below, he just looks like a typical middle-aged man in a suit. In contrast, the stuff that happens around him — like crowds running around screaming in Millennium Park — looks pretty remarkable.
Transformers: Age of Extinction will premiere June 27, 2014. See MovieWeb.com for more videos. [via SuperHeroHype]