'The Double' Trailer: Jesse Eisenberg Gets 'Black Swan'-Ed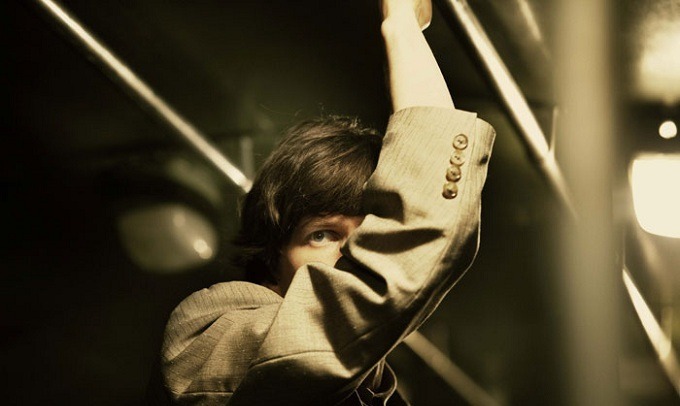 Five years ago, Richard Ayoade was mostly familiar to American audiences, if he was familiar at all, as ubernerd Maurice Moss from The IT Crowd. Since his 2010 directorial debut Submarine, however, he's also known as... well, okay, he's still the guy from The IT Crowd, but now people might also know him as a promising young filmmaker with style and wit to spare.
This year, he's back with his sophomore directorial effort, The Double. A loose adaptation of the novel by Fyodor Dostoevsky, this dark comedy follows a man (Jesse Eisenberg) who is driven to insanity by the sudden appearance of his doppelganger (also Eisenberg). Think of it as Black Swan with less ballet and more soul-crushing office work, perhaps. Or that episode of Buffy where Xander gets split in two.
Mia Wasikowska, Wallace Shawn, and Submarine actors Noah Taylor and Yasmin Paige also star. Watch the first trailer after the jump.
The 90-second video plays more like a teaser than a trailer. There's not much sense of plot, just miscellaneous clips interspersed with a shot of Eisenberg grimly walking ahead. There isn't even any dialogue, as Son House's sparse, bittersweet "Grinnin' in Your Face" plays over the whole thing. Though The Double is billed as a comedy, the promo plays more like a psychological thriller.
Eisenberg's Simon is particularly upset by the arrival of his doppelganger James because James is as confident and charismatic as Simon is neurotic and awkward. James usurps Simon's place at work, and even seems to have a better shot with Simon's crush (Wasikowska). Ayoade has previously said that the film was about, among other things, loneliness and the need to be loved.
The Double makes its premiere this weekend at Toronto, so reviews should be trickling out soon. No U.S. theatrical release date has been set.