'Best Man Down' Trailer: And You Thought Your Wedding Was A Disaster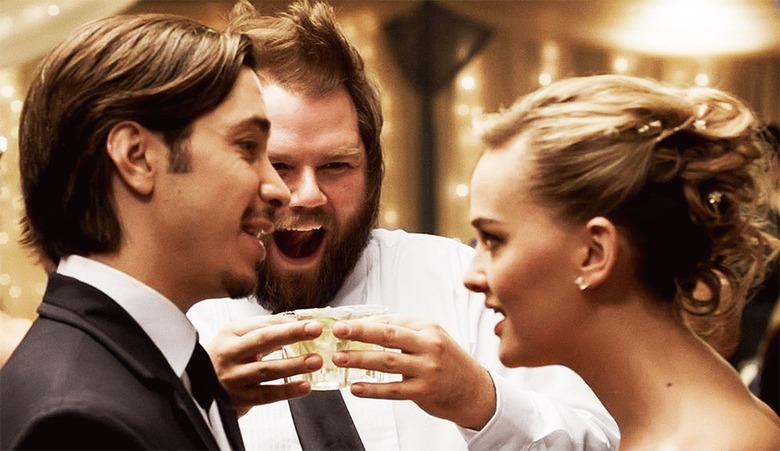 A lot can go wrong at weddings, as we've seen in, oh, every wedding movie ever. But few big-day catastrophes compare to the one suffered by Scott (Justin Long) and Kristin (Jess Weixler) in Best Man Down.
Written and directed by Ted Koland, the indie dramedy sees the couple's celebration go dark when their best man Lumpy (Tyler Labine) unexpectedly drops dead. Instead of jetting off on the honeymoon, they travel to the Midwest to make his funeral arrangements. While there, they make some surprising discoveries about who their friend really was. Watch the new trailer after the jump.
The tone is a little scattered. The first twenty seconds play almost like a Wedding Crashers-style comedy starring Lumpy, before abruptly transitioning into an intimate drama. Even then, there are some awkward jokes about boob jobs and Xanax that don't quite jibe with the serious tone.
On the other hand, the jarring emotional shifts probably correspond to how the characters themselves are feeling. Maybe it all comes together much better in the movie.
While the core of this one seems to be the relationship between Scott and Lumpy, it's great to see Weixler in a leading role as well. Since her splashy breakout turn in Teeth, she's appeared in a handful of indies but none that have really taken off. Here's hoping Best Man Down serves as a welcome reminder of her talents.
Best Man Down opens October 3.
When their obnoxious and over-served best man, Lumpy (Labine) unexpectedly dies at their destination wedding in Phoenix, bride and groom Kristin (Weixler) and Scott (Long) are forced to cancel their honeymoon and fly home to the snowy Midwest to arrange for his funeral. But when they arrive they realize that there was a lot more to their friend than met the eye.