Ian McKellen Will Play A Retired Sherlock Holmes In 'Slight Trick Of The Mind'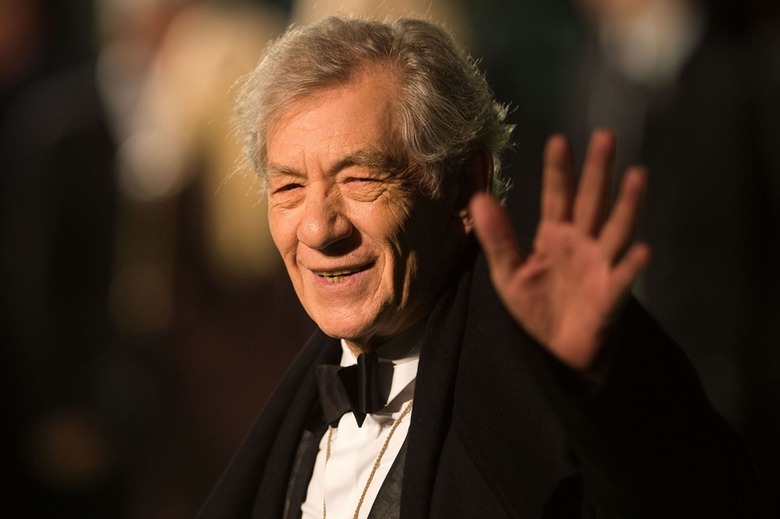 Over a century since he first appeared in print, Sherlock Holmes is, if anything, more popular than ever. BBC's Sherlock and CBS' Elementary offer dueling visions of the famed detective in present-day London and New York, respectively, while Robert Downey Jr. plays a less modern, more Iron Man-y version of him in the Warner Bros. movie franchise.
Now the iconic British character is being reimagined yet again, this time by an iconic British actor. Ian McKellen will play a retired Sherlock Holmes for Bill Condon's A Slight Trick of the Mind, based on the novel by Mitch Cullin. Hit the jump for plot details and more.
In 1947, Sherlock Holmes, long retired, lives in a sleepy Sussex village with his housekeeper and her amateur-sleuthing son. But far from living out a peaceful retirement, he is haunted by an unsolved case from fifty years ago. He remembers only fragments: a confrontation with an angry husband, a secret bond with his beautiful but unstable wife.
With his legendary mental powers on the wane, and without his old sidekick Watson, Holmes is faced with the toughest case of his life – a case that might finally reveal to him the mysteries of the human heart.
Condon and McKellan previously worked together on the 1998 biopic Gods and Monsters, which garnered high praise for both. McKellen and co-star Vanessa Redgrave were each nominated for acting Oscars, while Condon took home the Academy Award for Best Adapted Screenplay.
Condon is coming off of the WikiLeaks drama The Fifth Estate, starring Benedict Cumberbatch as Julian Assange. Prior to that, he directed The Twilight Saga: Breaking Dawn Parts 1 & 2.
McKellen will reprise two of his best-known recent roles in the near future. December's The Hobbit: The Desolation of Smaug has him donning Gandalf's pointy hat again, while next year's X-Men: Days of Future Past has him dodging Sentinels as Magneto. In addition, his ITV series Vicious was renewed last month for a second season.