Early Buzz: Ron Howard's 'Rush' Thrills Critics In Toronto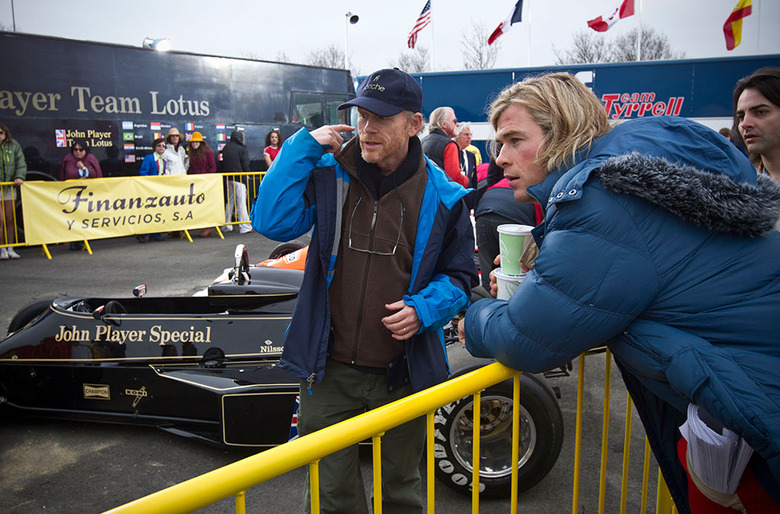 Ron Howard is by no means critically reviled, but as a director he hasn't had the sort of career that gets hardcore cinephiles all hot and bothered, either. So while we've been curious about Rush, his Formula 1 racing drama, it'd be a stretch to say it was one of our most anticipated releases of the year.
In the wake of its Toronto Film Festival debut, however, we may have to reconsider. Early reactions have ranged from solid to positively glowing, with plenty of reviewers noting that Howard has managed to avoid his usual sentimentality. As a matter of fact, praise was lavished on just about everyone involved, including stars Chris Hemsworth and Daniel Bruhl, screenwriter Peter Morgan, and cinematographer Anthony Dod Mantle. Hit the jump to read the reviews.
Variety was among the most enthusiastic critics:
[N]ot just one of the great racing movies of all time, but a virtuoso feat of filmmaking in its own right, elevated by two of the year's most compelling performances. It's high-octane entertainment that demands to be seen on the bigscreen, assembled for grown-ups and executed in such a way as to enthrall even those who've never watched a race in their life.
Total Film gave the movie five stars out of five:
Rush far exceeds expectations, emerging as one of the most rip-roaring rides of Howard's career. [...] Rarely has a feature film captured the intensity and exhilaration of motor sport so well. Rush is the word.
Screen Daily predicted that the film would appeal to sports fans everywhere, not just F1 followers:
Ron Howard's exhilarating and exciting delve into the fast and furious world of Formula 1 motor-racing is set against the backdrop of the sport during the 1970s, when everything about F1 was sexy, dangerous, edgy and thrilling. Taking the real-life rivalry between playboy British driver James Hunt and methodical Austrian Niki Lauda as its central story, Rush is the immersive, vibrant and gripping story of two men who were all about winning.
The next four critics each awarded Rush four stars out of five.
There's more going on here, then, than initially meets the eye. The film's texture is due to screenwriter Peter Morgan (The Queen) who does his usual trick of writing modern "history plays", accurately rendering known public facts while imagining vivid conversations behind closed doors. The real surprise is that Rush's director is Ron Howard, whose work is usually marked by competent blandness. Not here, though. Rush induces the adrenalin suggested by its title in its racing scenes: howlingly, teeth-rattlingly loud and cut lightning-fast, in what look to be perilous close-ups. It's far more of a thrill ride than watching Formula One on TV.
Part of what is so appealing about this warts-and-all drama, is that there is no good guy as such, resulting in a very unbiased piece that ensures the viewer remains impartial regarding the rivalry, as we are witness to both the positive and damaging aspects to their flawed personalities. The structure is masterful, with the time being split evenly between the conflicting camps, as we follow two correlating stories and lives with equal footing. The rivalry itself is somewhat conventional, as the typical playboy versus the straight-laced conservative – however despite following every single cliché of the genre, given this is a true story, Howard is let off the hook. It's a refreshing turn for the filmmaker, as he avoids the superfluous sentimentality for which he has become regrettably renowned – in exchange for a naturalistic and dramatic picture that has you completely engaged from start to finish.
At times, the film veers into buddy movie territory. The drivers, for all their rivalry and seeming enmity, are utterly fascinated by one another. There is also an attempt to cast Hunt and Lauda as mythic archetypes. All this is only fitfully successful. It's out on the track itself that Rush really picks up speed and emotional urgency.
When it hits top gear, Rush is a thrilling, frenetic experience that immerses the viewer fully in a world that's equal parts grit and glamour, with admirable attention to detail and – despite a few liberties taken here and there – a determination to be even-handed about both its protagonists. It's difficult to say whether the human story alone is enough to appeal to those who aren't at least passing fans of F1, but whenever it gets behind the wheel it has a serious claim to being the best motor sport movie yet.
THR was one of the few left totally unmoved by the racing scenes:
Most modern-era car racing movies, from Grand Prix and Le Mans to Days of Thunder, have been far stronger at portraying the excitement on the track than at developing interesting downtime drama among the characters. But rather the reverse is true with Rush, which offers perfectly coherent racing coverage but devotes far more time to exploring the personalities of two drivers who represented behavioral polar extremes and drove each other to distraction.
Digital Spy rated the film three stars out of five, making theirs one of the most negative reviews:
Despite their best intentions, exhilarating race sequences and an Oscar-worthy turn from Daniel Brühl as Lauda, Rush fails to fully satisfy because it doesn't delve deep enough into the psyches of men who risked their lives in often treacherous racetrack conditions in the pursuit of victory. What kind of fuel are their minds running on?
And now, a smattering of tweets:
Brilliant film! Well done @RealRonHoward and cast. #Rush pic.twitter.com/EkDY1ieP7O

— Rachel Brookes (@RachelBrookesTV) September 2, 2013
What a movie. #Rush was all it should be; a brilliant telling of 76 drama Lauda v Hunt. Nice mug in there @RobertoAustini! #Epic

— Ash Miller (@_ashmiller) September 3, 2013
To be fair the real life story of Hunt and Lauda's rivalry was made to be portrayed on the big screen. #rush

— Maxwell Hubbard (@maxwellhubbard) September 3, 2013
Basically, Rush doesn't sound perfect, but it does seem to be one of Howard's best films in years — or maybe ever, if you ask some of its more passionate fans. At any rate, it sounds well worth giving a shot when it hits theaters September 20.