Watch A Clip Of Tom Hardy's One-Man Feature, 'Locke'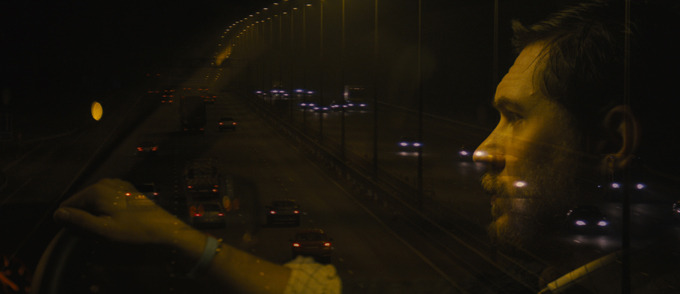 Amid the high-profile work featuring Tom Hardy, the actor quickly shot a small film in which his is essentially the only visible face.
The movie is called Locke, and it is a one-man show described by one review as "basically just Tom Hardy driving a car while making a bunch of phone calls." Lest you get the wrong idea, that same review from Variety goes on to call the movie an "ingeniously executed study in cinematic minimalism [with] depth, beauty and poise" and "a finely tuned showcase for Hardy's exceptional acting skills." So that's alright, then.
The film premiered at the Venice Film Fest this past weekend, where it met with positive reviews such as Variety's. Oh, and the movie comes from writer/director Steven Knight (Eastern Promises, Redemption) and executive producer Joe Wright (Hanna, Anna Karenina).
We don't have a trailer yet, but there's a clip you can check out to start getting an idea about the movie. 
Before the clip, let's hear what Knight has to say about the film, via The Playlist:
It was a joy and challenge to make Locke in an entirely different way. Shot in real time, Locke breaks new ground in movie making with Hardy holding the screen alone while the camera never blinks. The night time highway is part back drop, part art installation, as a stellar cast play the people Ivan loves and hates and who witness his extraordinary journey to despair and ultimately to redemption. A man's life transformed in a half a tank of gas. I believe the journey of Ivan Locke is deeply moving and utterly compulsive.
That should give you just enough to go on to check out this clip.
For a little extra detail, Deadline talked to Hardy, who explained that the film was shot in eight days, with six of those days spent running through the full script a couple times from beginning to end.
Steven wrote a script which was a 30 page synopsis, which turned into 90 pages three days before the shoot," Hardy laughed. But that "adds to the flavor, having a short space of time to put it together... The only thing that stopped us was the cameras because we had to change the memory cards every 28 minutes.
Locke will be at TIFF next week, and Lionsgate already has UK distribution. We'll report on a US deal if it comes together.