Seth Rogen And Evan Goldberg's 'This Is The End' Returns To Theaters Next Month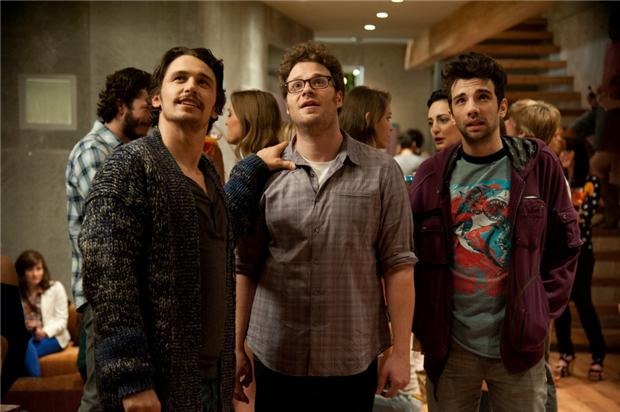 Just one week after Edgar Wright's The World's End hit theaters, Sony Pictures has announced that it will bring this summer's other big apocalypse comedy back to cinemas for another round.
This Is the End, the directorial debut of Seth Rogen and Evan Goldberg, will return to the big screen next month. The film originally debuted June 12. Hit the jump for more details on the rerelease, as well as a new TV spot.
Sony has This Is the End set to come back September 6, less than three months after its original opening. Its competition should be pretty soft that weekend, as Riddick is the only other scheduled opening by a major studio.
This Is the End did good business in its first theatrical run, raking in $96 million at home and another $17 million abroad. Those figures look especially impressive considering that the movie had a reported production budget of just $32 million.
It scored big with critics, too, earning an 84% on Rotten Tomatoes. Our own Germain Lussier praised its "balls-out, unapologetic" approach to the end times.
While this weekend marks the unofficial end of summer, the summer movie season is lingering just a few days longer. In addition to Sony's planned rerelease of This Is the End, Paramount has World War Z and Star Trek Into Darkness returning to theaters today through Thursday, September 5.
Coincidentally, one of those deals with an entirely different type of apocalypse from the ones depicted in This Is the End and The World's End. It's been a weirdly apocalyptic summer, but at least each film has offered a unique take on the subject.
Check out the TV spot for This Is the End's re-release.
[via Coming Soon]
When Jay Baruchel and Seth Rogen head to James Franco's house for a party, they're not surprised to see the likes of Jonah Hill, Danny McBride, Craig Robinson, Michael Cera, Aziz Ansari, Kevin Hart, Jason Segel, Paul Rudd, Rihanna and Emma Watson.What they are surprised about is when the apocalypse starts right outside their door and many of those friends meet their untimely deaths. That leaves six of the friends (Franco, Rogen, Hill, McBride, Robinson, Baruchel) in survival mode.