Here Are Arnold Schwarzenegger And Harrison Ford On 'The Expendables 3' Set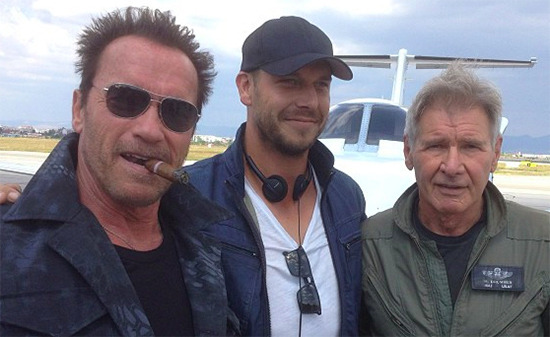 There's only so much to say here: we've got a photo of Arnold Schwarzenegger and Harrison Ford for the movie they're doing together. If this was 1987 that would be so awesome, but it's 2013 and the movie is The Expendables 3, so... we'll see. Maybe it'll be pretty awesome. Hard to tell right now. But the photo is solid, so check it out below.
The photo comes from Schwarzenegger's Instagram feed — click it to hit his original post. Is that Ford's in-character costume, or his real-life pilot suit? I hope the latter, but it's hard to tell.

The Expendables 3 also stars Wesley Snipes, Antonio Banderas, Kellan Lutz, Glen Powell, Ronda Rousey, and Victor Ortiz. It opens in theaters on August 15, 2014.
In THE EXPENDABLES 3, Barney (Stallone), Christmas (Statham) and the rest of the team comes face-to-face with Conrad Stonebanks (Gibson), who years ago co-founded The Expendables with Barney. Stonebanks subsequently became a ruthless arms trader and someone who Barney was forced to kill... or so he thought. Stonebanks, who eluded death once before, now is making it his mission to end The Expendables — but Barney has other plans. Barney decides that he has to fight old blood with new blood, and brings in a new era of Expendables team members, recruiting individuals who are younger, faster and more tech-savvy. The latest mission becomes a clash of classic old-school style versus high-tech expertise in the Expendables' most personal battle yet.