'Ass Backwards' Trailer: The New Romy And Michelle?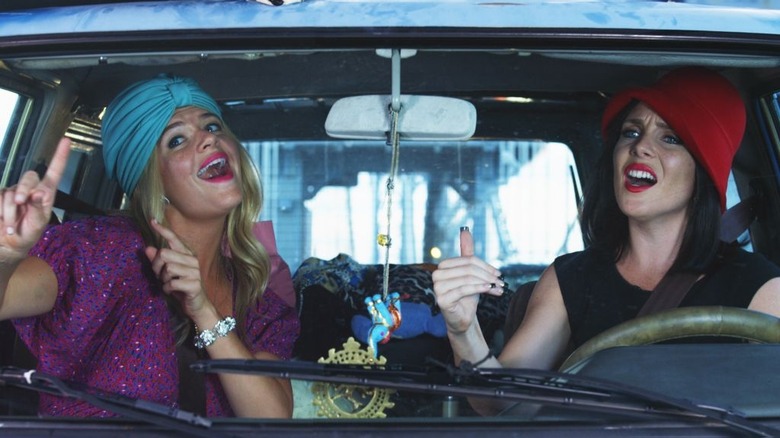 In the proud tradition of Dumb and Dumber and Romy & Michelle's High School Reunion, the Sundance comedy Ass Backwards features two complete morons who might be tragic if they weren't so irrepressibly pleased with themselves. June Diane Raphael (NTSF:SD:SUV) and Casey Wilson (Happy Endings) star as Kate and Chloe, two NYC gals who've been BFFs since they placed dead last in their hometown pageant as kids.
When they're invited back to celebrate the pageant's 50th anniversary, they embark on a road trip that, naturally, gets them tangled up in all sorts of insane shenanigans. Alicia Silverstone, Paul Scheer, and Vincent D'Onofrio also star. Watch the first trailer after the jump.
Based on the reviews for Ass Backwards, how much you'll enjoy this film depends very heavily on how much stupid humor you can tolerate. Variety blasted it as "cringingly unfunny" and THR complained that it was "ill-advised and amateurishly executed."
On the flip side, First Showing found it "hilarious, goofy and outlandish" enough to merit an 8/10 score, and Hollywood.com called for a sequel. Film School Rejects split the difference, giving it a lukewarm B-. Word from our own Germain Lussier (who caught the film at Sundance but didn't write a review) is that it's "REALLY dumb, but kinda funny."
Ass Backwards hits VOD September 30, and theaters November 8.
Kate (June Diane Raphael) and Chloe (Casey Wilson) are two childhood best friends who met when they placed dead last in their hometown beauty pageant. Now they are all grown up and living in New York City, where Chloe works as a "girl in a box" at a nightclub and Kate is a CEO....of her own one-woman egg donor "corporation". Lost in delusion, they believe they are living large until an invitation to their hometown pageant arrives and their past comes back to haunt them. Join these two loveable losers as they take an ass backwards journey home to reclaim their crown, stopping off at a women's separatist commune, an amateur strip club competition, and meeting their favorite reality TV star along the way...