'Palo Alto' Trailer: James Franco Helps Another Coppola Into The Family Business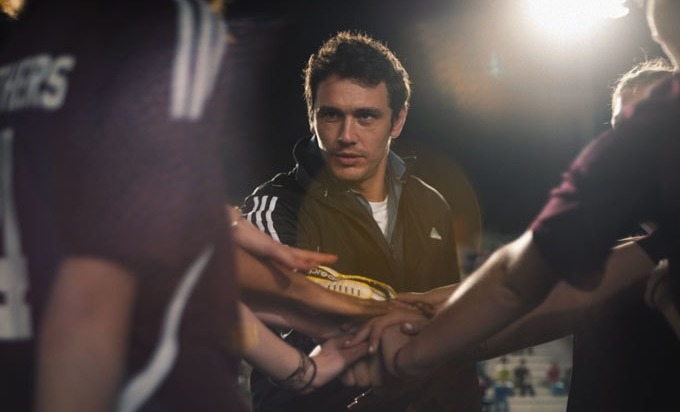 As James Franco prepares to debut his latest directorial effort, Child of God, at Venice and Toronto, another of his movies is on its way to a Telluride premiere. Palo Alto wasn't helmed by Franco, but it was based on his short story collection and stars Franco in a key role.
Instead, it's Gia Coppola (granddaughter of Francis Ford and niece of Sofia and Roman) who directed this drama, which follows several interconnected plotlines in the suburban town of its title. Emma Roberts leads the cast as a teenager who gets romantically involved with her soccer coach (Franco), while Jack Kilmer (son of Val) and Nat Wolff play a pair of troubled kids. Watch the first trailer after the jump.
Sex, drugs, youthful rebellion, and grown-up malaise aren't anything we haven't seen before, and it's tough to tell from this trailer whether Coppola really brings anything new to the table. That said, it looks like a promising early effort by a young director. While she's helmed shorts, ads, and fashion videos before, this is her first full-length feature.
Here's the Telluride description of Palo Alto:
"I think pain only hurts if it's prolonged," says one of the half-smart, half-twisted teenagers who wander trance-like though writer-director Gia Coppola's astonishingly assured debut film, which she adapted from a story collection by James Franco. Welcome to the Bizarro John Hughes world; this is a suburban-teen comedy gone all wrong. The kids know everything about sex, substances and suicide, but can't begin to figure out how or what they feel. Emma Roberts leads an unforgettable cast that includes Franco, 17-year-old Jack Kilmer (his father Val plays a supporting role) and Colleen Camp. Autumn Durald's moodily sensuous cinematography is a huge asset, and Ms. Coppola's fluid and confident direction and spot-on insights make this one of the most arresting and persuasive depictions of 21st-century American teenage experience yet put on film.
The film has not yet set announced a theatrical release date.