Pixar Brain Trust Serving As Interim Director For 'The Good Dinosaur'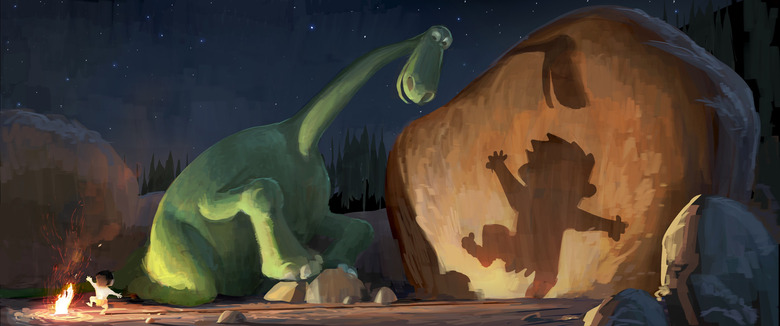 A week ago we told you that Pixar had taken director Bob Peterson off the upcoming film The Good Dinosaur, and now that fact is confirmed. Along with the confirmation comes some interesting info. Peterson was removed from the project, but he has not left Pixar. And while the studio decides on a replacement, Peterson's work is effectively being done by the core of the Pixar brain trust, members of which are overseeing different sequences of the film.
First, given the long production process in animation, and the changes in approach that can take place during that process, it isn't nearly as unusual for a director to be replaced mid-project in animation as it is in live-action. Of the change, Pixar president Ed Catmull told the LA Times,
All directors get really deep in their films. Sometimes you just need a different perspective to get the idea out. Sometimes directors ... are so deeply embedded in their ideas it actually takes someone else to finish it up. I would go so far as to argue that a lot of live-action films would be better off with that same process.
He added, "We've been around long enough to know [the production process] will never be smooth, but getting this process smooth is not our goal; our goal is to make the movie great."
Until Pixar decides on a replacement for Peterson, the company has different people working on parts of the film. They include John Lasseter, Lee Unkrich, Mark Andrews, and Pete Sohn, who had originally been co-director with Peterson. (Which, as the LAT explains, "at Pixar, a co-director plays a deputy role to the director.")
Jim Morris, general manager and executive vice president of production for Pixar, says "Bob [Peterson] is still working at the studio, and we hope he will stay here for the rest of his natural life." The director has another project in the works at the studio.
Producer  Denise Ream, who appeared on stage at D23 to present the film, is also a recent addition. She replaced  John Walker, who left the project to work on Brad Bird's Tomorrowland.