James Spader Is Ultron In 'Avengers: Age Of Ultron'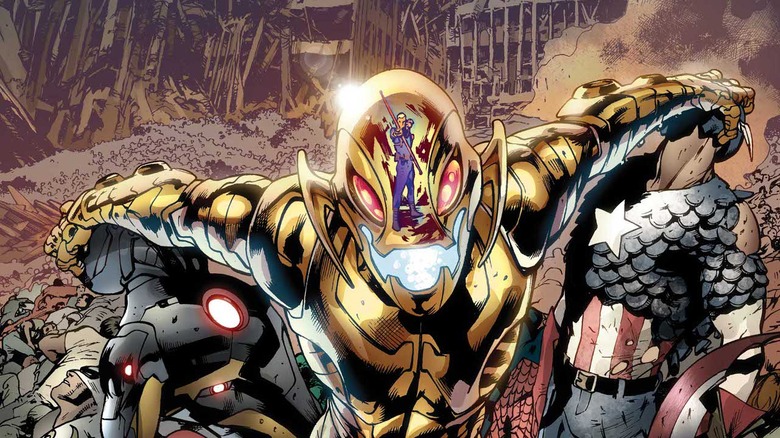 Joss Whedon has chosen someone few people likely expected to play the main villain in Avengers: Age of Ultron. James Spader, who became a sensation thanks to Steven Soderbergh's debut feature Sex, Lies, and Videotape, and who has played roles in a diverse slate of projects in film (Secretary, Lincoln) and television (Boston Legal, The Practice), will play the character. Official info is below.
This will surprise a lot of people, I think. Thanks to the teases that link the creation of the character to Tony Stark, many assumed that Ultron, a mad artificial intelligence housed in an adamantium robotic body, would be an evolution of the Jarvis AI voiced by Paul Bettany in the three Iron Man movies and The Avengers. That's obviously not what's going on, and at this point we'll all have to start coming up with new theories about just what Spader's role will entail.
It's a wild casting choice, but at this point we can almost count on Marvel and Whedon for some surprises. They're not locked into any established lists when it comes to casting, that's for sure. (It's worth mentioning, too, if perhaps not particularly important, that Spader and Robert Downey, Jr. worked together decades ago on Less Than Zero.)
Here's the report via Marvel.com:
James Spader will face off against Earth's Mightiest Heroes as the villain in Marvel's "Avengers: Age of Ultron," the sequel to 2012's record-breaking "Marvel's The Avengers." The Emmy Award-winning actor will play Ultron in the Avengers' much anticipated return to the big screen from writer/director Joss Whedon. The film comes to theaters on May 1, 2015. 
Spader earned three Emmy Awards for his role as Alan Shore on "Boston Legal" and "The Practice," and will return to television this fall in NBC's highly anticipated series "The Blacklist." Most recently Spader was seen in the critically-acclaimed film "Lincoln" directed by Steven Spielberg and has previously worked with a long list of accomplished film directors including David Cronenberg, Curtis Hansen, Sidney Lumet, Mike Nichols, Tim Robbins, Robert Rodriguez, Steven Soderbergh, and Oliver Stone.  David Mamet also directed Spader in the Broadway play Race."Avengers: Age of Ultron" will bring the Marvel Universe's biggest heroes together again to face one of their biggest villains, with "Marvel's The Avengers" director Joss Whedon returning to write and direct the sequel. "Marvel's The Avengers" was released in 2012 and went on to earn $1.5 billion worldwide, making it the third-largest grossing movie of all time.
Meanwhile, what does the villain of the last Avengers movie think about this?
Go on, James Spader. Go get 'em. @Avengers #AgeOfUltron

— Tom Hiddleston (@twhiddleston) August 29, 2013
'Nuff said.