Sequel Bits: 'Insidious: Chapter 2', 'Riddick', 'Bond 24', 'Transformers 4', 'The World's End'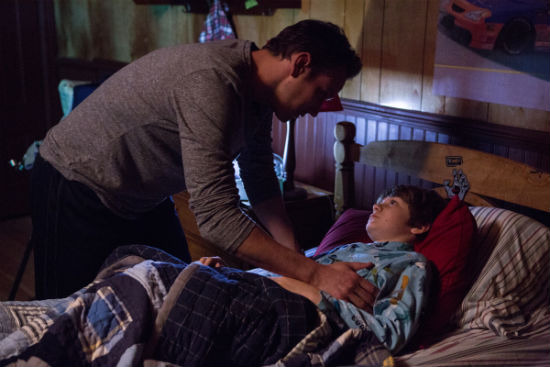 How can you get "The Ultimate Insidious Experience"? Find out after the jump. Also:
Daniel Craig wants more "irony" in Bond 24
How did Shaun of the Dead inspire The World's End?
The Scorpion King 4 is a thing that is happening
The new Transformers 4 logo has claw marks
Toys R Us is ready for the influx of Dinobots toys
Vin Diesel flirts and fights in new clips from Riddick
If a mere 100 minutes of horror aren't enough to spook you, you can get twice the the scares with "The Ultimate Insidious Experience" double feature next month.
FilmDistrict will host special one-night-only screenings of Insidious on Thursday, September 12, leading into an early showing of Insidious: Chapter 2 immediately afterward. To find out which theaters are participating and buy tickets, visit the official website.
Daniel Craig's James Bond is cool, tough, and, in his own bruised way, charismatic. What he isn't is funny, particularly when compared to some of his jokier predecessors. But Craig hopes that'll change with the next installment.
Hopefully we'll reclaim some of the old irony, and make sure it doesn't become pastiche. I can't do shtick, I'm not very good at it. Unless it kind of suddenly makes sense. Does that make sense? I sometimes wish I hammed it up more, but I just can't do it very well, so I don't do it.
Look forward to some jokes, then, when Bond 24 opens November 6, 2015. [Vulture]
As it exists now, Edgar Wright's Cornetto Trilogy is only a trilogy in the loosest sense. They don't feature the same characters or plot points, and as far as we know don't even exist in the same universe. However, Wright reveals that The World's End actually started out as a sequel of sorts to Shaun of the Dead:
This is going way way back, but there was at one point a really silly idea – one of those fanciful, pie in the sky ideas that we were excited about for about an afternoon and then thought, 'That's impossible...' – where we thought of doing a sequel for Shaun Of The Dead where it would be an alternate reality. Shaun would turn left instead of right and instead of it being a zombie film, it would be – I don't know – a bodysnatchers film.
Interestingly, The World's End also has ties to Hot Fuzz. One memorable scene in the latter originated as a gag for "a film that never got made about a pub crawl," Wright explained in the Hot Fuzz DVD commentary. Now, who wants to be the one to stitch together a Cornetto equivalent of the Pixar Theory? [Empire]
2002's The Scorpion King didn't do well enough to merit a theatrical sequel, but as a direct-to-DVD franchise it's still going strong. Universal Studios Home Entertaiment has just wrapped The Scorpion King 4, which stars Rutger Hauer, Michael Biehn, and Lou Ferrigno alongside "world class champion fighters" like Royce Gracie and Eve Torres. Here's the synopsis:
The deposed warrior king Mathayus embarks on his most dangerous assignment ever as he attempts to bring lasting peace to his troubled land. When he is betrayed by a trusted friend, Mathayus must marshal all his strength and cunning to outwit a formidable opponent who will stop at nothing to destroy him in an epic battle to the death.  With a cast that includes an array of world-renowned athletes and professional fighters, The Scorpion King 4 brings an unprecedented level of excitement and action to a much-anticipated new adventure.
No release date has been given. [PR Newswire]
Stars Kelsey Grammer and Victoria Summers and others were recently spotted on the Chicago set of Transformers 4. Grammer and his female co-stars are in simple business attire, albeit sexy business attire for the ladies.
Speaking of changes, the logo seems to have gotten a makeover as well. An eagle-eyed fan spotted a crew member with a T4 hat that has a more colorful design and what appear to be claw marks. Head over to Comic Book Movie to check it all out.
Those scratches could very well be from the Dinobots, which are all but confirmed to appear. Heck, even Toys 'R Us expects to see them in the film, as evidenced by this internal memo promising Dinobots toys.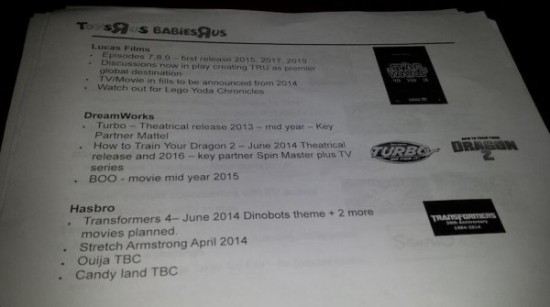 Of course, it's worth nothing that whoever wrote it also thinks a Stretch Armstrong movie is coming out in spring 2014, so maybe we should take this sheet with a grain of salt. Transformers 4 opens June 27, 2014. [Seibertron via Bleeding Cool]
These three Riddick clips only amount to about two and a half minutes of screen time total, but they tell us all we need to know about its titular hero (played by Vin Diesel). The first demonstrates his soft spot for puppies, or whatever the sci-fi equivalent of puppies are.
The second shows us Riddick turning on the charm for Katee Sackhoff's character Dahl.
And the third reminds us why, despite being an animal-loving flirt at heart, the guy has such a fearsome reputation.
See Riddick in all his puppy-saving, sweet-talking, sword-flinging glory when Riddick opens September 6.