Star Wars Bits: Where And When Will 'Episode VII' Shoot?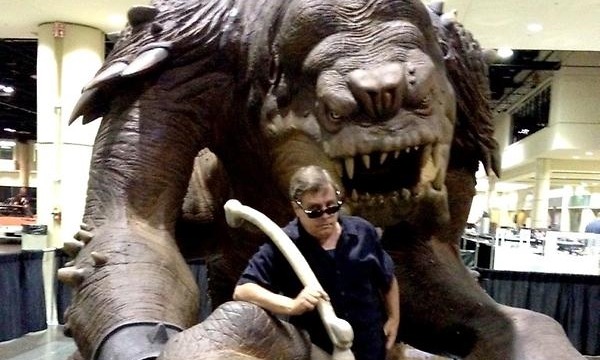 What's that in the header image? Why, it's Luke Skywalker — well, Mark Hamill — catching up with his old buddy the Rancor. See the full-sized version after the jump. Also below:
So where is Episode VII going to shoot?
And when is filming supposed to start?
New book Kenobi delves into Obi-Wan's past
According to Albuquerque Studios president Dana Arnold, rumors have indicated that Star Wars is also looking into New Mexico, where his facility is located, as well as Iceland, Jordan, Scotland, and Ireland.
The production shouldn't have any shortage of options. The studios are "all willing to offer things on a one-shot basis, everything they can imagine the producers might want, just to be able to say they got the new Star Wars shoot," Arnold notes. [Variety]
Meanwhile, another report answers the burning question of when the film will shoot. Producer Bryan Burk and director J.J. Abrams have said vaguely that lensing would begin sometime in early 2014, but now a source claims that the exact start date for principal photography is January 21, 2014.
Now, if only we could find out when the movie will open. The original estimate was summer 2015, but recently we've gotten (unconfirmed) word that it could open around Christmas 2015 instead. [Latino Review]
Whether or not Ewan McGregor reprises the role of Obi-Wan Kenobi for Episode VII, the character's adventures will continue in the Expanded Universe.
Written by John Jackson Miller, the new novel Star Wars: Kenobi chronicles Obi-Wan's first several weeks on Tatooine, right after he drops off young Luke to be raised by his Uncle Owen and Aunt Beru. He settles into his role as Luke's distant protector, transitioning from the rash young man of the prequel trilogy to the wise mentor from the original films.
Unlike most Star Wars tales, Kenobi stays relatively grounded. "There are no space battles, there are no lightsaber battles with Sith lords," Miller said. He likens the story instead to Shane: "The mysterious stranger who rides into town with a past nobody knows. It struck me this was the right way to tell a story about Kenobi at this time."
Kenobi hits shelves this week. [Mashable]
As for Kenobi's charge Luke, it appears he's currently spending his time reconnecting with familiar faces. Mark Hamill posted the photo below.
It's always great to catch up with a dear old friend! #bestfriends pic.twitter.com/rrkxwG8G

— Mark Hamill (@MarkHamill) August 27, 2012
[via MTV Geek]