Early Buzz: Alfonso Cuarón's 'Gravity' Stuns Critics At Venice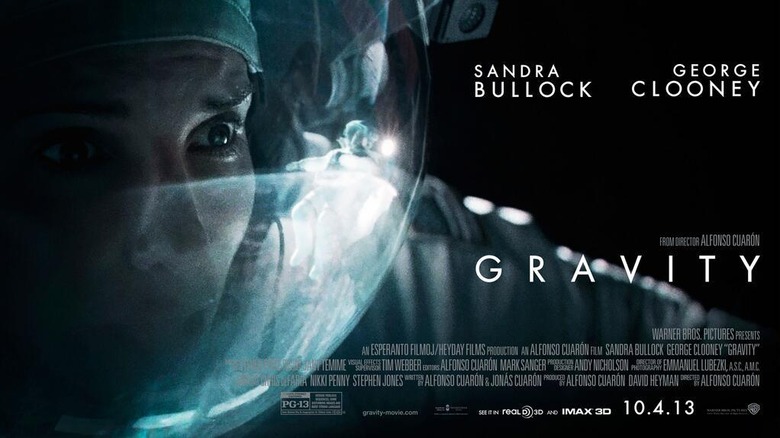 It's hard to believe that it's been seven long years since Alfonso Cuarón released his last movie, the dystopian sci-fi Children of Men. But at least he's made his new film worth the wait, if early Venice Film Festival reviews are anything to go by.
Gravity stars Sandra Bullock and George Clooney as two astronauts — she a newbie, he a veteran. While on a mission, a bit of floating debris knocks into their shuttle, sending them floating into outer space and struggling to survive.Reactions from an early test screening last year were mostly quite positive, and now that the film's complete the praise is even more glowing. Hit the jump to see what the critics are saying.
If there's one complaint that keeps cropping up, it's that the film occasionally slips into sentimentality, particularly where Stone's backstory is concerned. Fortunately, those stumbles seem to be dwarfed by everything else Cuarón does right.
Justin Chang, Variety:
Suspending viewers alongside Bullock for a taut, transporting 91 minutes (with George Clooney in a sly supporting turn), the director's long-overdue follow-up to "Children of Men" is at once a nervy experiment in blockbuster minimalism and a film of robust movie-movie thrills, restoring a sense of wonder, terror and possibility to the bigscreen that should inspire awe among critics and audiences worldwide.
Todd McCarthy, THR:
It's as if Max Ophuls were let loose in outer space, so elegant is the visual continuity, making for a film that will have buffs and casual fans alike gaping and wondering, "How did they do that?" and returning for multiple viewings just to imbibe the sheer virtuosity of it all.
Guy Lodge, HitFix:
Certainly, the unfeasibly mobile camera of Cuarón's loyal, invaluable cinematographer Emmanuel Lubezki seems drugged – or perhaps purely entranced – by its possibilities, gliding and weaving across seemingly impracticable distances with a deliberate fluidity that no previous screen depiction of weightlessness (whether in outer space or the subconscious hotel suites of Christopher Nolan's mind) has come close to approximating. (You'd also have to go back to Wim Wenders' "Pina" to find a film that demands this compellingly to be made and seen in 3D, and even that's in a different ballpark.) When I stood up as the final credit rolled, I don't mind admitting that I immediately had to sit down again, a Bambi-like wobble coursing through my limbs, as if I'd just re-encountered gravity myself. For sheer transference of experience upon the audience, I can think of no film quite like it.
Oliver Lyttleton, The Playlist:
The film's technically perfect, of course, from the terrific sound design to the impeccable effects (the exact extent of the CGI is difficult to say, because pretty much everything looks photo-realistic, even when things head indoors). But it's also cleverly written, and more than anything phenomenally directed, from the way that he uses every available surface to tell his story (someone's going to write a book one day on the use of reflections in this film) to the way he and Lubezki shift the light to vary the color palette, preventing it from becoming repetitive. Almost every decision is inspired.
Mark Adams, Screen Daily:
A genuinely tense and exciting lost-in-space thriller, Alfonso Cuaron's exhilarating and often spectacular 3-D film is a real pleasure, driven by top-notch lead performance from Sandra Bullock and George Clooney as well as some seriously cool special effects. Despite some lapses into sentimentality, Gravity sustains its simple concept and turns out to be a real audience pleaser as well as a shrewd choice for opening night film for the Venice Film Festival, where it has its premiere.
Xan Brooks, The Guardian:
It comes blowing in from the ether like some weightless black nightmare, hanging planet Earth at crazy angles behind the action. Like Tarkovsky's Solaris (later remade by Clooney and director Steven Soderbergh), the film thrums with an ongoing existential dread. And yet, tellingly, Cuaron's film contains a top-note of compassion that strays at times towards outright sentimentality.
Robbie Collin, The Telegraph:
Stone and Kowalsky grasp wildly for something – anything – to hold onto. They spin through empty space, and so does the camera, in a series of moves so intricate and yet so natural that only after you leave the cinema do you realise the feats of visual choreography involved. Inside the cinema, you're simply too caught up in the action to notice, and as Dr. Stone's own oxygen supply agonisingly ebbs towards zero, you realise you, too, are rationing your breath into sips. The fight for survival then follows, and if the tension ever then dips below lung-bursting levels, I can't say that I noticed.
Geoffrey Macnab, The Independent:
The one problem with Gravity is that the plotting never quite matches its visual imagination. There isn't the same urgency or plausibility here found in JC Chandor's recent, similarly themed All Is Lost (which featured Robert Redford as a lone sailor whose boat is sinking.) At times, as the astronauts desperately battle fire, tangled parachute strings and malfunctioning machinery, matters risk becoming just a little banal and predictable. Even so, this is a film that, at its best, really does induce a sense of wonder.
Kate Muir, The Times UK:
GRAVITY: a seat-chewingly tense, virtuoso 90 minutes of cinema. Bullock and Clooney terrific. A tad heavy on sentimentality. #Venezia70

— Kate Muir (@muirkate) August 28, 2013
Nick de Semlyen, Empire:
Now that the embargo is up, I can say that what Jaws did for water, Gravity does for air.

— Nick de Semlyen (@NickdeSemlyen) August 28, 2013
What surprised me was how much of an action flick Gravity is. Non-stop, no-nonsense. It's Speed in space. Hugely entertaining.

— Nick de Semlyen (@NickdeSemlyen) August 28, 2013


Gravity opens October 4.